Interview with Emily Marie – A Glass Blowing Artist by Elev8 Presents
Published by Elev8 Presents on 7/20/2019
During the 2018 AGE show, I was fortunate enough to start my day standing in line behind Emily. Luckily I was introduced to her by Becca, an Elev8 Doll, so I had to ask if I could get an interview with Emily. To my surprise, she said no problem with a wonderful smile!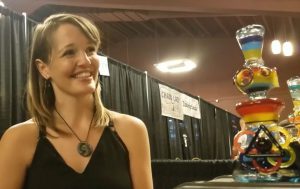 Who is this amazing person?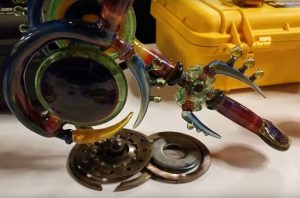 Emily Marie started blowing glass near 9 years ago and she is from Sale Lake City Utah. By chance on a date, she was introduced to Kristian Merwin who started Nectar Collector. With a little confidence making glass she never left the studio in a sense. Goes to show things don't always happen the way you want, but they happen for a reason.
Crazy shaping and cold working are what has been inspiring the wonderful Emily lately. Finding a lot of neat things to do in cold working has been a new adventure into shaping and creating her style. Her style can be seen in her work with the open space she has been able to put into many of her work. Contrasting colors are what she likes to use on her pieces.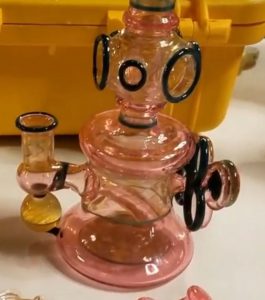 Self-promotion is done best Emily feels when you combine social media and traveling. Traveling allows you to work in unfamiliar surroundings and that can lead to new techniques. Working with people that you do not know makes you a bit more humble while becoming more confident. Glass blowing also keeps her humble as once in a while the glass gods can come and check her. When they come to do a check she takes with love and learns from the experience.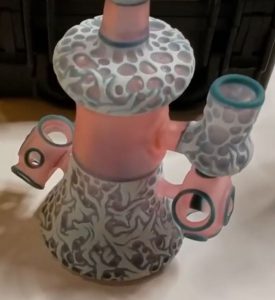 The natural world is one of Emily's biggest inspiration. Challenges are what keeps her going and she feels that is what makes glass a never-ending place to learn as she is easily bored. Feeling like a beginner to some may sound frustrating, but not to Emily. This is what she loves as she loves to learn. The microscopic world also brings a lot of inspiration to her. She finds it crazy that because of glass being important to both the art field and science field she has been peering into the micro world to bring you new styles.
Does she believe in Aliens??? Are you an alien?
Watch YouTube interview to find out and to go further into depth with the Elev8ed interview.