Elev8 at 8 with special guest Trouble the Maker
Published by Elev8 Presents on 7/14/2021
We talked to Florida glassblower Trouble the Maker about his career, his extensive catalog of collaborations, and his love for the glassblowing industry at large. Trouble the Maker is a glassblower who is all about community and interpersonal relationships, and this is reflected in his work both in the studio and outside of the studio. Almost all of Trouble the Maker's glassblowing work is done collaboratively with other artists, and he has dubbed himself the "Collab King" with a catalog of 63 separate collaborations. He has dedicated his career to building a strong cannabis glass community in his region, doing everything he can to promote and boost the reputations of other local artists.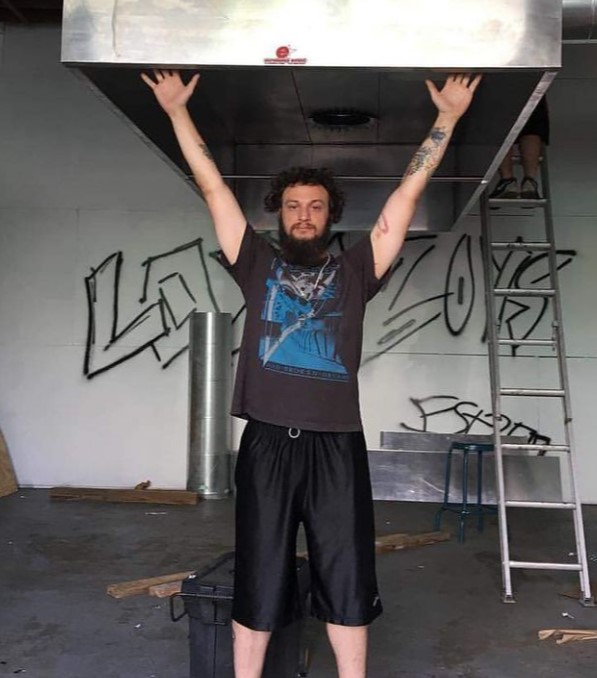 Trouble the Maker started his glassblowing career as a collector of cannabis glass, something that he still takes pride in today, often purchasing pieces from friends and blowers that he works with. Trouble began learning to blow glass after he was encouraged to do so by a manager at Grateful J's, a long-running headshop chain in the Florida region. At the time Trouble the Maker was making money as a door-to-door salesman, busting his hump seven days a week while wearing a full suit in the Florida heat. Trouble did this work with a sales partner named Jacob Buczynski, who would end up partnering with Trouble the Maker when he opened his own glass studio years later. Around this time Trouble the Maker's girlfriend took him to a glassblowing shop called Zen Glass Studio and Gallery which is owned and operated by Dave Walker (@wavewalkerglass). Dave Walker provided Trouble with a space to learn and an ear to pick for knowledge and experience, along with Zen Glass Studio blower Ned Glassman (@nedglassman), both of whom would serve as important mentors to Trouble the Maker.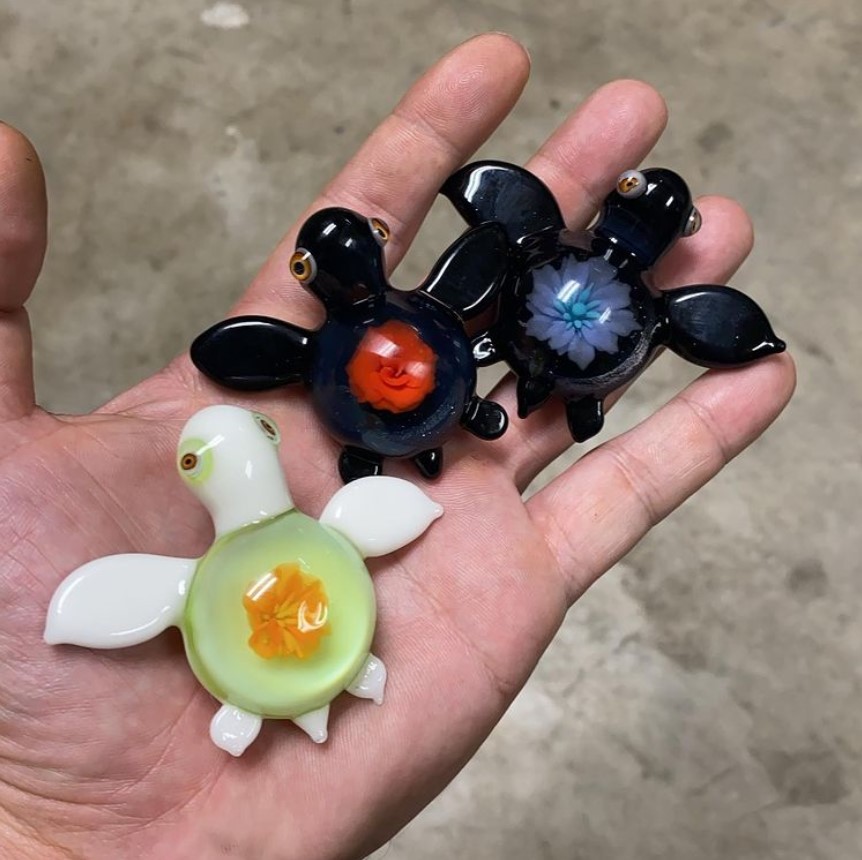 Now Trouble the Maker has almost a decade of glassblowing experience under his belt. When he set out to start his own business Trouble the Maker opened a solo studio called Oasis 7, and around this time Trouble found out that his old sales partner Jacob Buczynski was selling cannabis glass, so Trouble invited Jacob to come to Oasis 7 to learn how to blow glass. As he acquired more skills Jacob took on the name Nitro Glass (@nitro_glass), and Trouble the Maker and Nitro Glass have been working together in a continual glassblowing partnership ever since. When they lost Oasis 7, Trouble the Maker and Nitro Glass pooled together every dollar that they had to open a new studio called Lost Boys Glass (@lostboysglass). Lost Boys Glass would quickly transform from a simple glassblowing studio to a community-driven glassblowing entity, more an idea than a mere building.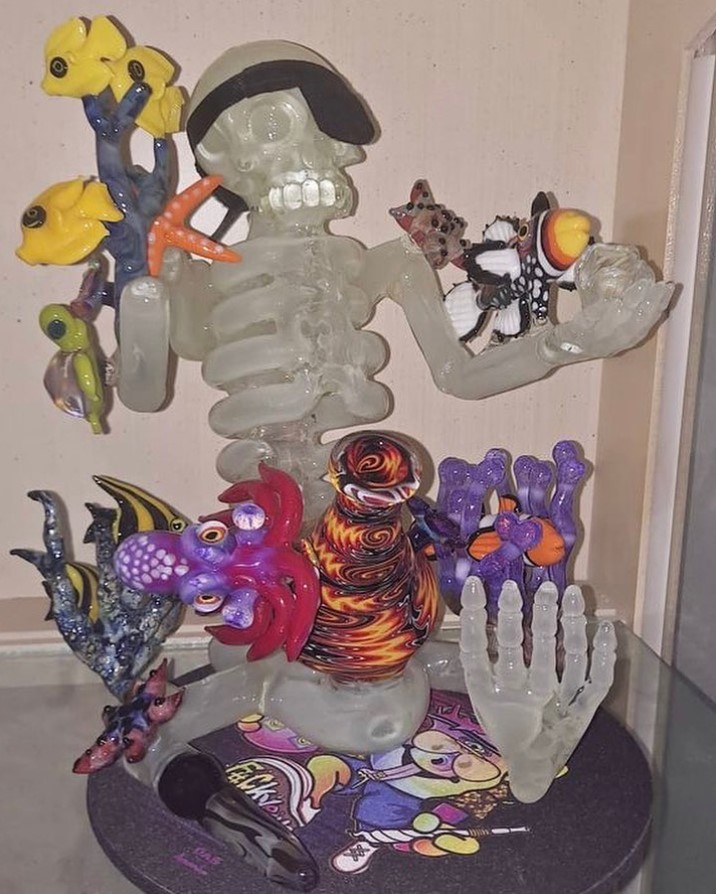 Trouble the Maker's entire life seems to be focused around his love for other people and being a part of a scene, and Lost Boys Glass quickly became a testament to that. Trouble's friends and other glassblowers in the region came to Lost Boys Glass as a place where wayward souls could find companionship and a sense of community, hence the name "Lost Boys" which Trouble the Maker took from Peter Pan and not from the movie starring 'the Two Coreys'. Soon Trouble the Maker and Nitro Glass were presiding over a loose team of blowers who were either learning or working with Lost Boys Glass. Current Lost Boys Glass artists include @theunaballer, @buubbbzzz, @904pizzaboy, @_blind_bear, and apprentice blower @sunshine__glass. All of these blowers regularly collaborate together on pieces, and some of Trouble the Maker's personal favorite pieces to make are full Lost Boys Glass collaborations where every blower contributes a piece or element to the work.
In addition to his regular collaborations with the glassblowers at Lost Boys Glass, Trouble the Maker also reaches out to every blower that he can think of outside of Lost Boys Glass in order to seek out new opportunities for collaborations. Trouble the Maker has had the opportunity to collaborate with many artists that he has admired over the years, and now boasts a catalog of 63 individual collaborations, an achievement for which he has dubbed himself the "Collab King". Trouble the Maker's personal aesthetic style is reminiscent of visual artist Trog, with a focus on character pieces, often with a beach or sea life theme. Outside of his work at Lost Boys Glass, Trouble the Maker is always finding ways to build community, often hosting or promoting parties and concerts. You can check out more of Trouble the Maker's work over on his Instagram page (@troublethemaker).