Elev8 at 8 with special guest Role Model Glass
Published by Elev8 Presents on 6/29/2021
We talked to the brains behind the newly-formed company Role Model Glass about how their collaborations led to a full glassblowing partnership. Role Model Glass is comprised of Bob Dawg of Dawg House Glass and Gauge Hamilton of Modified Creations Glass, and if you want to learn more about these artists on an individual level then click the preceding links to check out the one-on-one interviews that we did previously with Dawg and Hamilton. Role Model Glass is already making waves in the glassblowing industry, and the story behind their partnership is one of an unbreakable friendship born from their mutual love of glass and their complimentary artistic styles.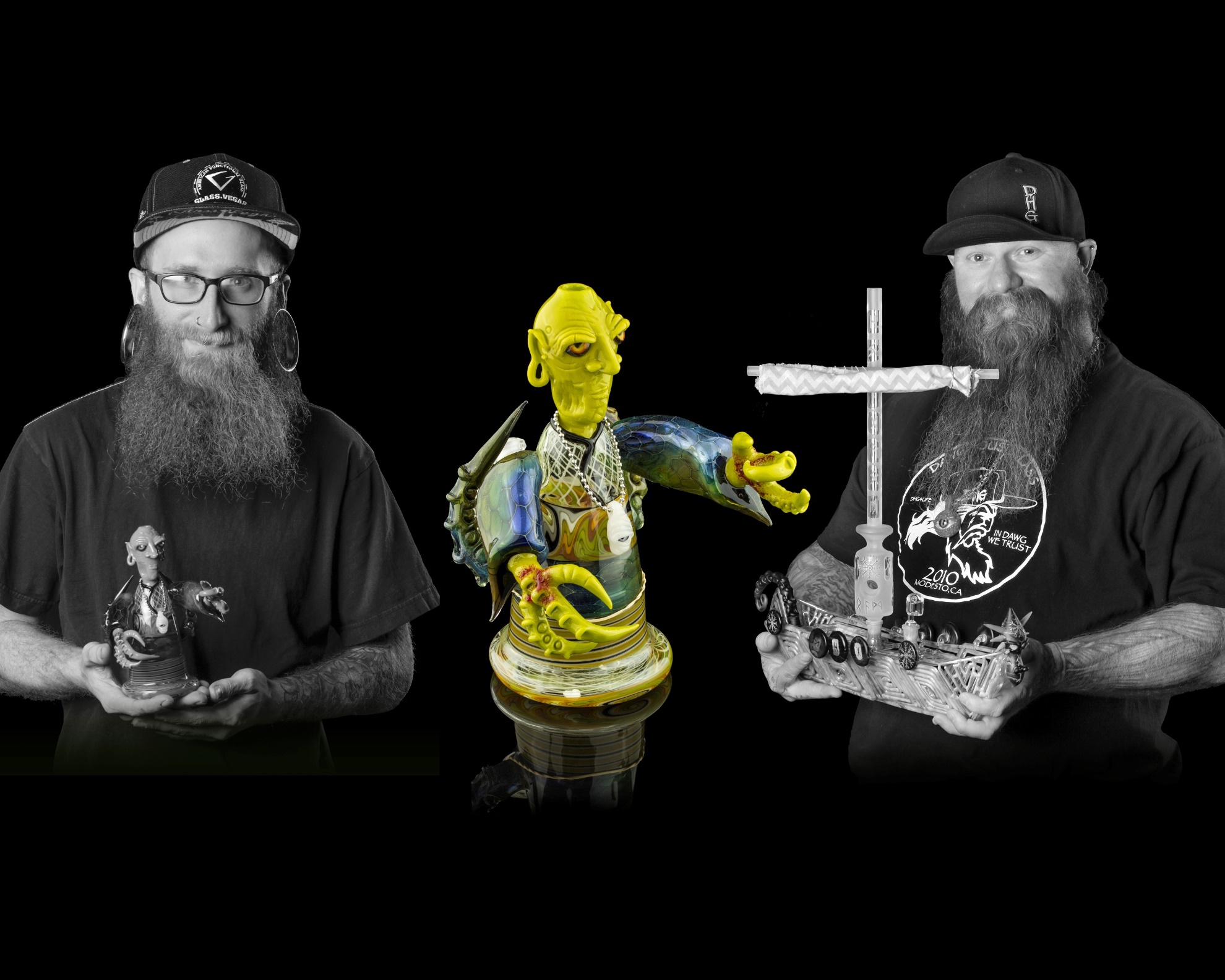 Role Model Glass originated from what was initially just a shop visit. Gauge Hamilton, who at the time had only been glassblowing for a few years, was on the road making glass purchases when an older gentleman told him to go check out Bob Dawg's studio. Gauge was blown away by the kinds of glass pieces that Bob Dawg was making, they were unlike anything that Gauge had seen previously. Up until that point Gauge Hamilton had mostly been making simple spoon pipes in a production style, but Bob Dawg was making complex pipes and water filter rigs with all kinds of colors and artistic techniques that Hamilton had never been exposed to before. Gauge Hamilton was fascinated by the level of artistic expression present in Bob Dawg's work, and so he watched Bob blow for a while and picked his ear about the various techniques that Dawg was utilizing. At the end of the day Gauge Hamilton had to head back home to Alabama, but the knowledge that Gauge acquired from this short visit would forever change the trajectory of these two blowers' careers.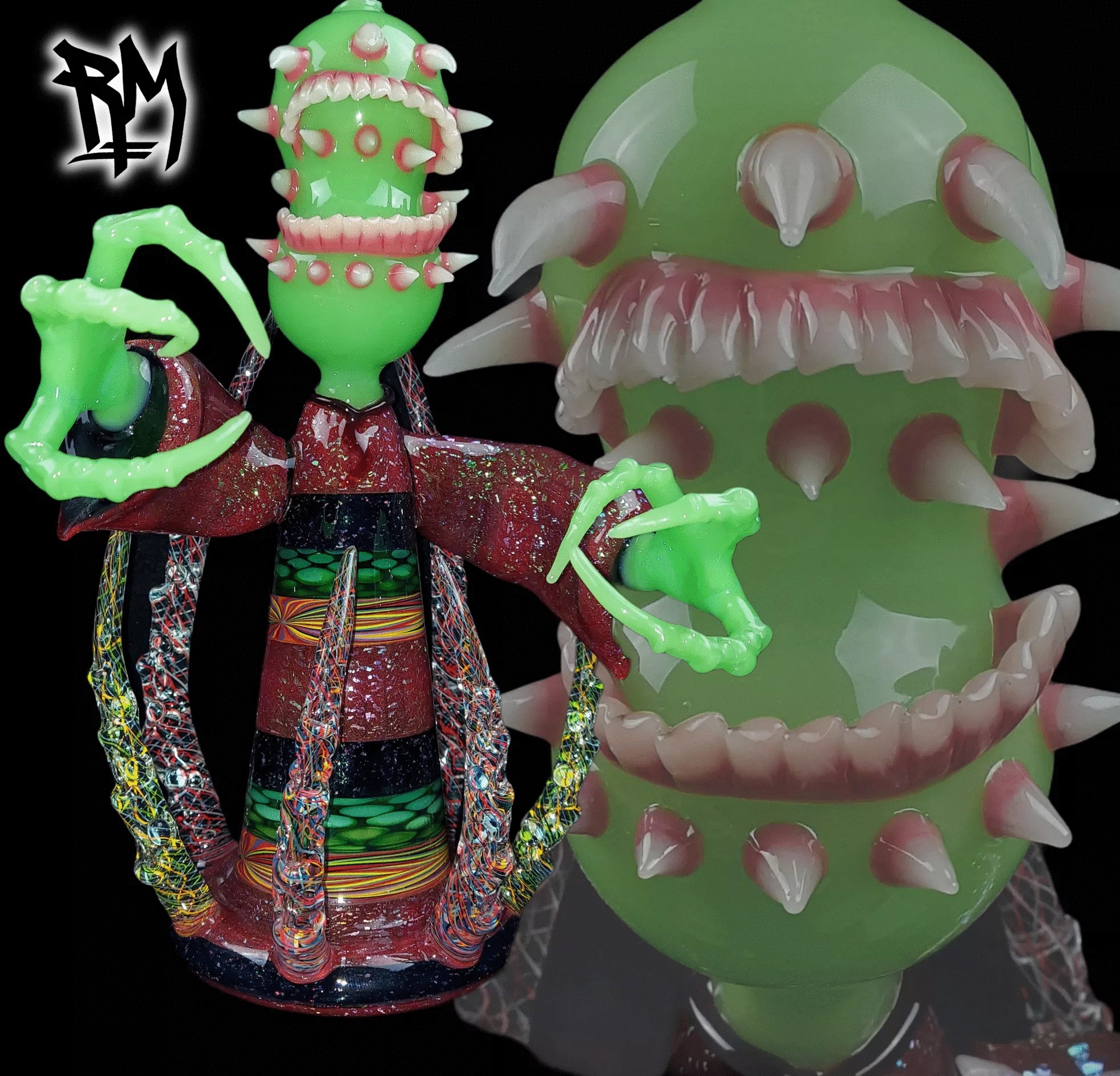 After Gauge Hamilton returned to Alabama, he started to work regularly with Bob Dawg and a group of other blowers via virtual meetings, becoming virtual shop mates in a sense. They would chat, trade ideas, and teach each other new techniques that they had learned. During this time, Gauge Hamilton's father told him that he had a vivid dream one night where Gauge Hamilton and Bob Dawg were blowing glass together in an old gas station. Gauge Hamilton didn't think much of his father's dream and never told Bob Dawg about it, until one day when Bob Dawg told him that he was signing papers to purchase an old gas station that he planned to renovate into a glassblowing studio. Gauge Hamilton was blown away by how closely this news matched with his father's dream, and it was this serendipitous circumstance that inspired Gauge Hamilton to leave Alabama and join Bob Dawg at his new studio.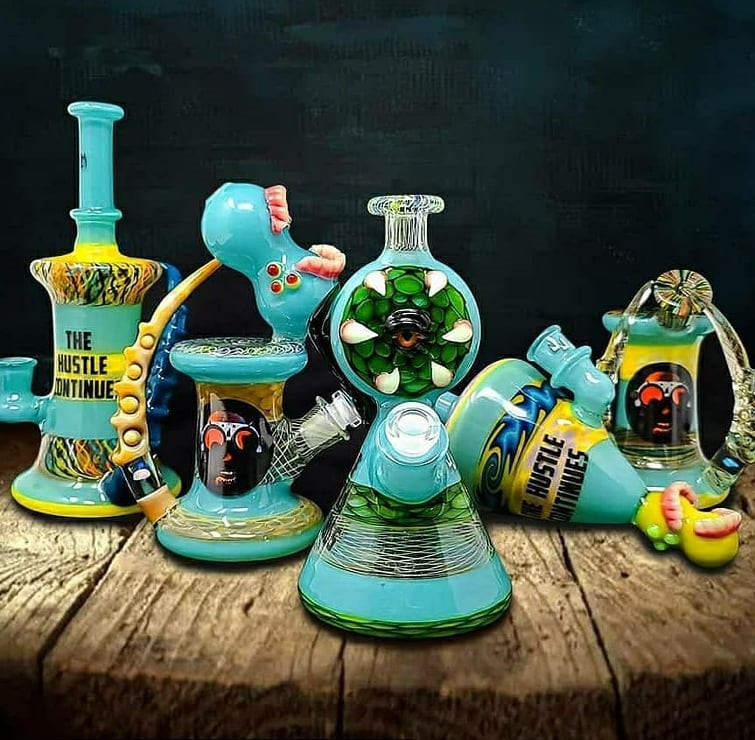 When Bob Dawg and Gauge Hamilton became true shop mates in the physical sense they began collaborating on pieces with increasing frequency until they reached a point where they realized that neither artist had blown a solo work in nearly a year. For months every piece that they had produced had been a collaborative effort between them, and it was at this point that Bob Dawg and Gauge Hamilton decided to formally partner under the Role Model Glass brand. Now that Role Model Glass is established, Bob Dawg and Gauge Hamilton have essentially forgone their solo brands and have put all of their creative efforts into projects for Role Model Glass.
Role Model Glass exhibits the complementary styles of these two glassblowers, bringing out the strongest aspects of each blowers' individual artistic abilities. Bob Dawg and Gauge Hamilton did not fall into a workflow with clearly defined roles as some other partnerships might; instead each blower takes on the roles that need to be filled on the basis of what each unique piece needs. Sometimes Hamilton will do the initial shaping while Dawg will add decorative elements, and sometimes the roles are reversed. Gauge Hamilton has a strong eye for color combinations, linework, and overall form, while Bob Dawg's strengths are in sculptural elements and overall artistic direction. Bob Dawg and Gauge Hamilton never argue about anything in their work, instead they strive together seamlessly towards a common goal. Their complementary relationship doesn't just extend to glassblowing, but into all aspects of their business and personal lives. Role Model Glass is truly breaking the mold for collaborative business dynamics, and the amazing glass that they are producing reflects the strength of their partnership and friendship. Their uniquely characteristic style merges vibrant colors and elegant forms with a monster movie aesthetic including realistic anatomical features like teeth, horns, and eyes; their signature pieces are known as "Sorcerers", shamanistic character rigs made with astonishing detail and unmistakable Role Model Glass flair. You can check out more of Bob Dawg and Gauge Hamilton's collaborative work over on the Role Model Glass Instagram page. (@rolemodelglass)