Ultimate Vaporizer Comparison Guide
Published by Elev8 Presents on Oct 5th 2018
Top Rated Dry Herb Vaporizer Comparison Chart
With so many vaporizers on the market, how do you know which is best for you? The "perfect" dry herb desktop vaporizer may or may not exist for you, depending on what your individuals wants and needs are. To help you find the *best* vaporizer for you though, we've created this comparison chart which shows the most sought-after features from the most popular desktop vaporizers on the market. We hope this quick reference guide will help you make the wisest decision for your consumption needs.
Dry Herb Desktop Vaporizer Comparisons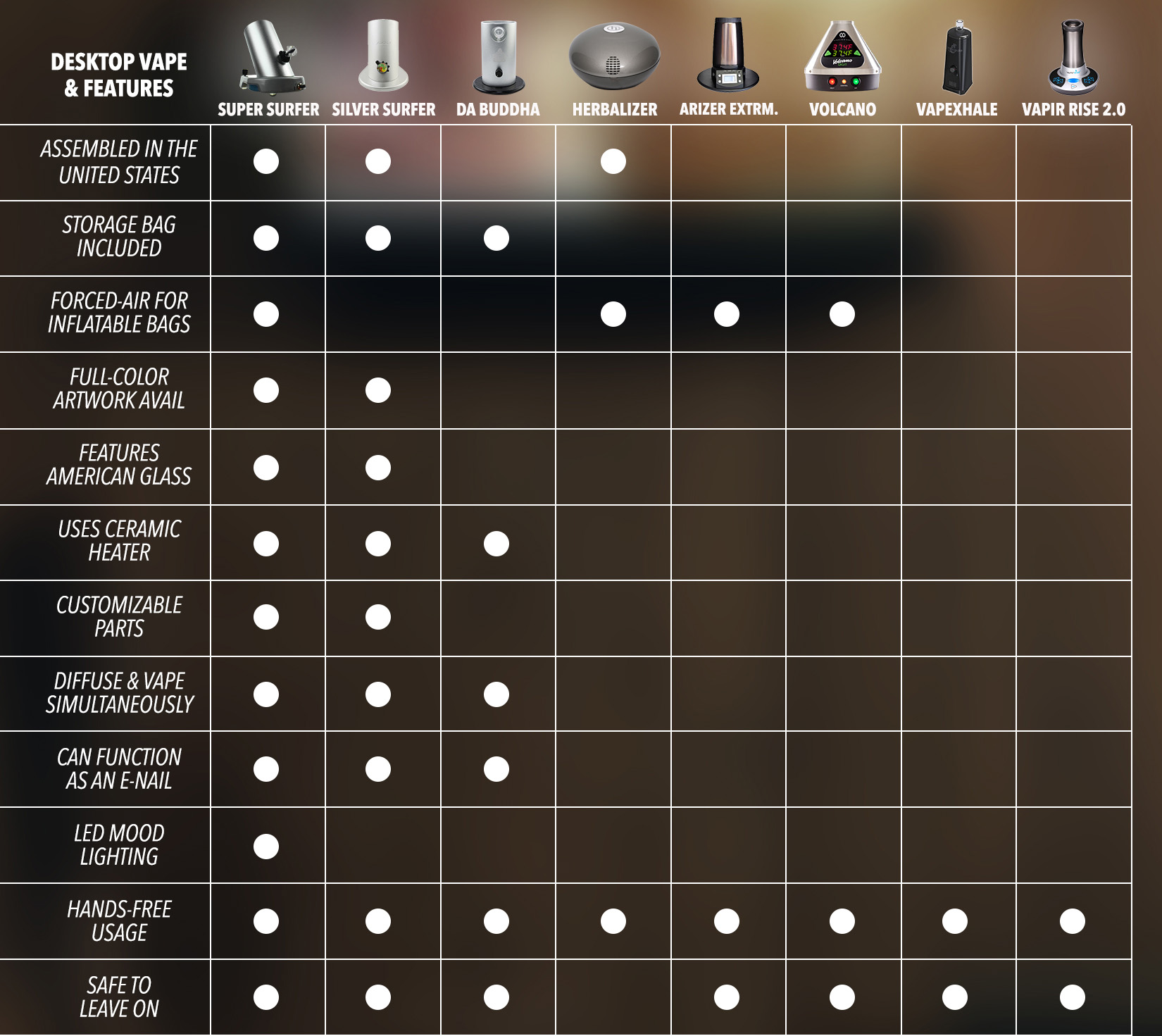 The Super Surfer by 7th Floor Vapes comes in as the most versatile and the most feature-packed offering of any desktop vaporizer on the market. Does it check off all the items on your checklist of features you're looking for? If so, you'll find the Super Surfer to have the most value for your hard earned dollars!
Assembled in the USA
American-built quality is the gold standard in excellence for vaporizers. While many vapes are made for worldwide distribution, it's important to many companies that their products are built and inspected here in the United States. This ensures the best quality control and keeps American citizens employed. Among other smaller brands, 7th Floor Vapes, Herbalizer and Magic Flight have all figured out ways to build their vaporizers in the USA.
Storage Bag Included
When it comes to moving your vape from one location to another, its nice when all you have to do is pack it up in its case and take it with you. Most all desktop vaporizers on the market come in a box, while great for shipping, in the end the packaging usually ends up in the landfill. While many aftermarket storage bags exist for many vaporizer sizes and styles, only 7th Floor packages their vapes in beautifully crafted Hempster (hemp/polyester) storage bags, complete with compartments to hold your parts, pieces and accessories.
Forced-Air Inflatable Bags
Forced-air is required to fill a bag and make the desktop vaporizer more "portable." Because vapor has time to cool down while in the bag, bag systems can also offer a smoother, cooler experience. Another positive of a bag filled with vapor is that there is little to no resistance when inhaling, making it easier for patients with COPD, emphysema or other breathing issues to inhale vaporized herbs. They can even be used to infuse foods and/or drinks with herbs. How cool!? The Super Surfer, Herbalizer, Arizer and Volcano Vaporizer all have the ability to fill a bag with vapor made from your favorite herbs.
Full-Color Artwork Available
Most desktop vaporizers on the market are manufactured in just one color. While there are a couple manufacturers who offer variations of the overall housing color, only 7th Floor's Wave Rider Series vaporizers can be fully customized to be a unique as you. Pick from tons of in-house designs, artist collaborations, or upload your photo or design and have your own custom, signature vape.
Features American Glass
With the wave of Chinese glassblowers and their ability to produce high quality glass at a very affordable price, we fully understand why most vaporizers have their glass made in another country. Still, many connoisseurs prefer American blown glass. Because of this, 7th Floor utilizes the American glassblowing team at ELEV8 Premier in Colorado Springs, CO to produce the majority of their glass parts, pieces and accessories in addition to high end, custom, heady upgrades to any of the 7th Floor Vapes line of desktop vaporizers as well as almost any other desktop vape on the market.
Uses Ceramic Heater
Oxidation is what kills a heating element, making ceramic heaters are some of the best on the market. This is because the heating element is fully encased in ceramic, preventing the heater from coming in contact with oxygen. When looking for a vaporizer that you want to last, we recommend a vaporizer that utilizes ceramic heater technology.
Customizable Parts
Nearly all vaporizers on the market offer only stock parts, pieces and accessories. This is standard. Through their partnership with the ELEV8 Premier Glass Studio, 7th Floor is one of the only vape manufacturers who can offer customized knobs, wands, mouthpieces, water pipe adaptors and other various odds and ends. If you can dream it, your one-of-a-kind vaporizer can be created just for you.
Diffuse & Vape Simultaneously
It's one thing to vape herbs and oils, but it's another thing entirely to diffuse oils for aromatherapy. It's an even BIGGER thing to do them both at the same time and bigger yet the ability to do this around the clock. With the Aroma Top, available only for the 7th Floor Vapes line of desktops (included with the Super Surfer and an available upgrade for Silver Surfer and Da Buddha Vapes), gives you the ability to diffuse essential oils and melt scented wax 24/7/365. You can even continue to vaporize your dry herbs while using your Aroma Top. This is especially cool while using the built-in LED mood lights, as the light makes the Aroma Top glow to match.
E-Nail Function
Again, the 7th Floor Vapes line of desktops shine above others on the list not only for it's ability to vape both dry herbs and concentrates, but the ability to convert any of their desktops into an e-nail with an accessory upgrade called the Essential Oil Kit (or "EOK). This easy to install upgrade enables you to drop a dab of concentrates directly into the dish and draw through your favorite filter pipe, filter, rig or recycler for clean, smooth, temperature controlled hits.
LED Mood Lighting
One of the biggest parts of many consumer's rituals is that of setting the right mood. The Super Surfer from 7th Floor Vapes is the only desktop to feature LED mood lights with 13 lighting modes, including dip to color dissolves, cross-fade dissolves and 7 static colors of the rainbow.
Hands-Free Usage
"Hands-Free," in this sense, is much more loose than you'd think. While all of the vapes on our list will still require you to hold your mouthpiece, rig, recycler or inflated bag, you won't have to hold your herb to any of these units. You'll find that many lower end vaporizers require two-handed use.
Safe To Leave On
Nearly all of the desktop vapes on our list are considered safe to leave running constantly. With the exception of the ability to be used for diffusing oils and wax melts that 7th Floor Vapes offers, leaving your vape on has no functional purpose other than to reduce waiting time for unit to come to temp.
Dry Herb Desktop Vaporizer Comparisons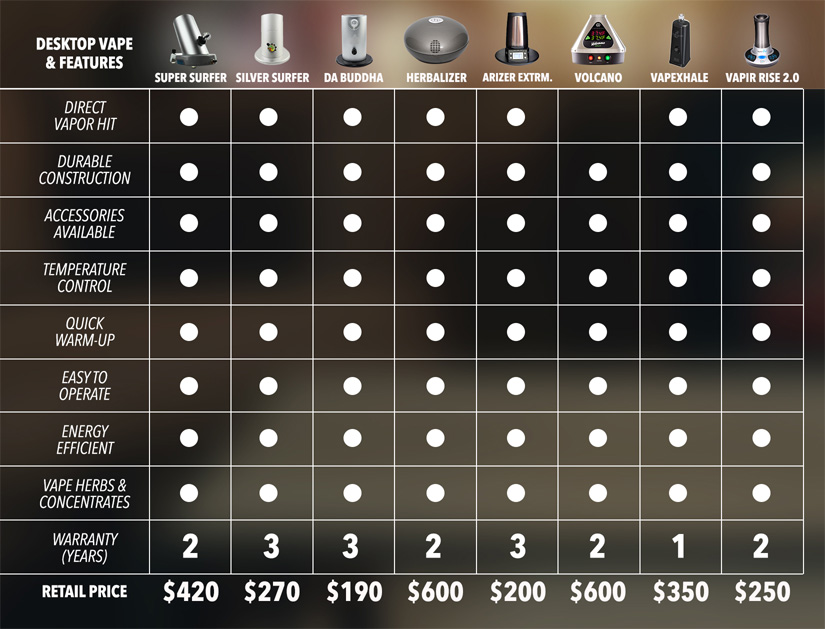 Direct Vapor Hit
When it comes to flavor and the ability to fully taste your herb through the entire roasting processes, the connoisseur should always pick a whip or wand style vaporizer. Unlike a bag vape that puts the first, second, third and more hits all into the bag mixing the hits up, the direct hit vaporizers all you to taste each notch of roasting, ensuring that you enjoy the full spectrum flavor associated with each stage of each strain of herb.
Durable Construction
All of the desktop vaporizers we have listed offer very strong, durable builds. This is especially important in the event of accidental knock overs. While most of the vapes on our list feature high quality plastic housings and parts that may break more easily than others, the SSV by 7th Floor comes in at the top of the durability list with the thickest housing in the industry, being made from nearly 1/4 inch thick aircraft-grade aluminum.
Accessories Available
Nearly all the desktop vaporizers can be upgraded with manufacturer-produced or aftermarket accessories to work with any water pipe or dab rig. Can't find what you're looking for to enhance your experience with your desktop vaporizer? We can help find it or utilize the ELEV8 Premier Glass Studio's team of talented, American artists to develop it for you.
Temperature Control
The ability to control the temperature on your desktop vaporizer is one of the most important features to the connoisseur. While some vapes have digital readouts of their temperature setting, that temperature isn't always accurate as in many cases this temp setting doesn't account for the draw speed of the user. The slower the draw, the more time your air has to heat up, creating a higher-temp vapor hit. Alternatively, the faster the draw, the less time the air has to heat up, creating a lower-temp vapor hit. Connoisseurs find their perfect temperature and speed setting by starting out at a lower temp and working it up until they find their sweet spot.
Quick Warm Up
Desktops are kings of short warm up times. With the AC power going into them, they can use strong, powerful heaters to make short work of getting your desktop up to temp. All of the vaporizers mentioned on our list check out GREAT for warm up times.
Easy To Operate
While they can be slightly intimidating to a new consumer, desktop vaporizers are all pretty easy to use. Each one has a small learning curve, but they can all be easily mastered with time and patience. Many "how to" videos are available online to help you learn the ins and outs of your unit. Be sure to read the instructions included with your vape to get you started quickly.
Energy Efficient
Desktop vaporizers use little power compared to most small appliances. Even units with strong, powerful heaters like the Silver Surfer consume a small amount of power—just under 30 watts.
Vape Herbs And Concentrates
With the demand for concentrates on the rise, being able to vaporize both concentrates and dry herbs is very important. While many vapes aren't *made* for the consumption of concentrates in addition to dry herbs, some offer specially made metal pads to aid in the vaping of concentrates, others offer ceramic pads, like the Flavor Disc which comes stock with all 7th Floor Vapes line of desktops.
However, we find that most vapes can handle concentrates by simply putting a dab of concentrates in with your herbs. The herb helps absorb the fats and lipids that get messy, while also allowing the concentrate to have a way to spread out and get the most surface. Again, this is not recommended from the factories, but if you've not tried this method, it's worth investigating.
Warranty
Most desktop vaporizer manufacturers stand by their products with a warranty usually lasting 1-3 years. Many of the vaporizer companies also have very affordable repair costs if your unit falls outside the warranty and you're in need of repairs.
Dry Herb Portable Vaporizer
Comparisons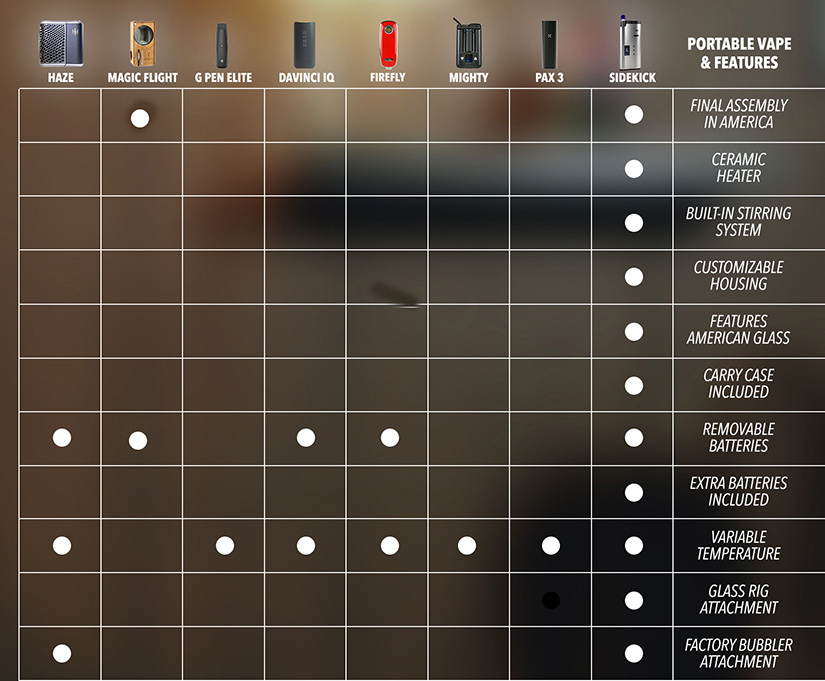 Final Assembly In The USA
With most vape companies importing their completed units from manufacturing facilities overseas, it can be difficult that find a portable vaporizer that is built and inspected in the USA. In fact, on our list only the Launch Box by Magic Flight and the Sidekick by 7th Floor Vapes are the only vapes who either make or build and inspect their vapes in the United States.
Ceramic Heater
Oxidation is what kills a heating element, making ceramic heaters are some of the best on the market. This is because the heating element is fully encased in ceramic, preventing the heater from coming in contact with oxygen. When looking for a vaporizer that you want to last, we recommend a vaporizer that utilizes ceramic heater technology.
Built-In Stir System
Most portable vaporizers on the market use conduction heating, or a hybrid conduction/convection. Because of the way conduction works the user is required to stir the bowl more often. This can often mean that you'll need to turn off or otherwise open your unit to stir the bowl with any number of tools you have laying around, which means your bowl will naturally cool down, wasting battery life. The SideKick by 7th Floor Vapes is the only portable on our list to feature a built-in stir tool which allows you to stir your bowl while the unit is on and the top is closed, ensuring even vaping of your herbs and providing the best flavor.
Customizable Housing
People are all unique and a vaporizer that can be customized is a feature not many portable vaporizers offer. 7th Floor is the leader in customizing vaporizers and they were able to make this SideKick vaporizer customizable with 7 different color options and with custom laser engraving.
Features American Glass
While most portable vaporizers feature plastic or silicone mouthpieces, both the Magic Flight Launch Box and SideKick Portable Vaporizers offer glass mouthpieces. And while the SideKick has several factory custom mouthpiece options, the American glassblowing team at ELEV8 Premier can create custom glass for whatever vaporizer you want to upgrade with custom and heady glass pieces.
Carry Case Included
Portable vapes are designed to travel and are perfect additions to an on-the-go connoisseur's vaporizer collection. Portable vapes should be maintained regularly and with some having the feature of replaceable batteries a nice place to store your cleaning supplies, accessories and batteries is just that: nice!
Removable Batteries
Lithium batteries are great, but they still go bad after time so a portable vaporizer that utilizes removable batteries really makes the unit more user friendly should a battery ever go bad. In many cases, the vaporizer manufacturer requires the user to place the entire unit on a charger, rendering it unable to be used until the battery has been charged. Having removable, replaceable batteries is also a nice feature to avoid this issue.
Extra Batteries Included
Its always nice to have another battery or set of batteries on hand if you yours dies. Swapping with a fully charged battery is simple and allows you to charge your other battery with no downtime using your vaporizer.
Variable Temperature
Each of your sessions and experiences should be as unique as you are. And since the herb you're using and the vapor strength you're looking for could be different for each of these experiences, we feel that adjustable temperature is an absolute MUST. The more heat settings you have, the more easily you can dial in your vape to ELEV8 you to your desired experience.
Glass Rig Attachment
With all the dope rigs in the world and the added benefit they provide to cool and moisten the vapor, an attachment to hook your portable vape to a water filter is the ultimate upgrade. While most manufacturers do not provide a way to attach your portable vaporizer to a rig or recycler, the ELEV8 Premier glassblowing team can develop the right part for you. Just hit us up!
Factory Bubbler Attachment
Sometimes its really nice to take your vaping to the next level by running your vape through some water while not having access to your regular water filt. Both the SideKick Portable Vaporizer by 7th Floor Vapes and the Launch Box by Magic Flight offer factory water bubbler attachments.
Dry Herb Portable Vaporizer Comparisons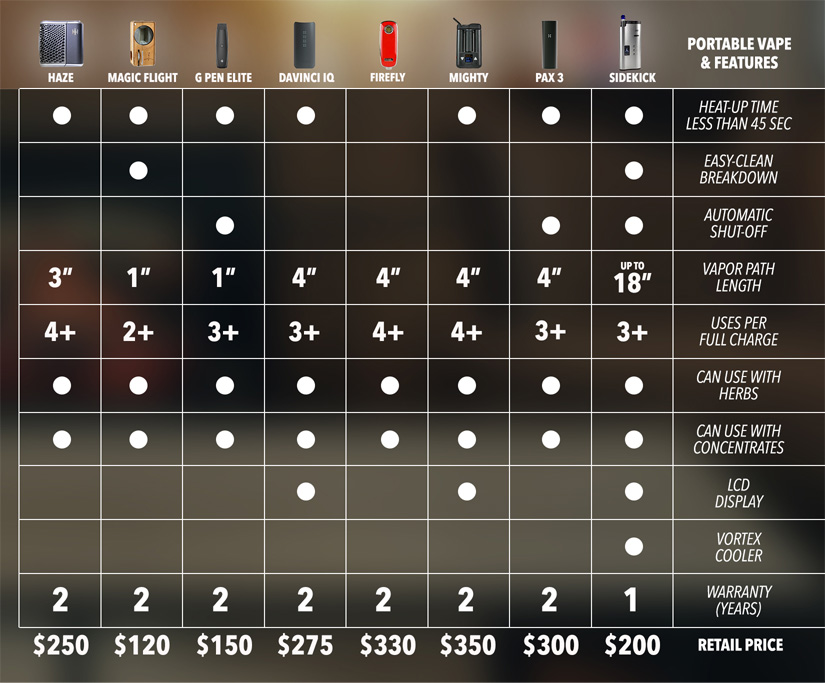 45 Second Heat Up Time
Heating up fast is a good thing when you want to get your vapor now. Most all the vapes on this comparison hit the mark in 45 seconds or less.
Easy-Clean Breakdown
When your vape is clean it just tastes and works better, but cleaning your portable vaporizer can be difficult without the right tools and methods. Two of the vapes on our list, the Magic Flight Launch Box and the SideKick by 7th Floor Vapes can fully break down for easy cleaning. After removing the batteries, the ENTIRE SideKick unit can be soaked in a bath of 97% isopropyl alcohol (or higher) for deep cleaning of your machine. (Did we mention the batteries must be removed first...? Yeah, take note of that.)
Automatic Shut-Off
Sometimes it happens after using your herbs that you might forget to turn you unit off. Because dry herb portable vaporizers work hard to keep up the heat necessary to vape, leaving the vape running without using it not only wastes your battery life but wastes your herbs. Having an automatic shutoff helps to prevent this from ever happening to you.
Vapor Length Path
We have found that the longer the vapor path, the cooler the vapor is, making for a much more enjoyable experience. While most units have a vapor path of 1"-4", only the SideKick features a vapor path over one foot long.
Uses Per Full Charge
The uses per charge are based on a heat up cycle and using it for around 7 minutes and letting it cool back down to room temperature. The heat up is the biggest drain on a battery as it has to bring the heater and herb from room temperature to your desired vaping temperature. Once the unit has heated up, holding the heat takes less effort for the batteries.
Can Use With Dry Herbs
Many vapes are made for either dry herbs or for concentrates. Which is right for you? Thankfully all of the units on this list can vaporizer dry herbs.
Can Use With Concentrates
With explosion in the world of concentrates, we see the need for a portable vaporizer to have the ability to vaporize concentrates as well as dry herbs.
LCD display
There's several pieces of information you need to know while using your vaporizer. Things like temperature setting, battery level and run time of vape. Having an LCD display makes it quick and easy to get these readings and to properly use your portable vaporizer.
Vortex Cooler
The only vape on our list to feature a Vortex Cooler is the SideKick by 7th Floor Vapes. The purpose of it is two-fold: first, it's made of a coil which extends the air path 11" (adding to the existing air path to create 16"), creating a smoother, cooler hit. Second, the Vortex Cooler can be removed and placed in a freezer to cool your vapor down even further. It also acts as a secondary filter, helping to keep any particulate from leaving the unit.
Warranty
While there are some with longer warranties, many of the popular vapes on the market carry a warranty of 1-3 years, most of which do not cover the batteries, glass or from improper use.