Elev8 at 8 with special guest Al_K_Glass
Published by Elev8 Presents on 9/30/2021
We talked to glassblower Al_K_Glass about his extensive history in the glassblowing industry and how he is sharing his love for heady glass culture with communities that have never been exposed to it before. Al_K_Glass started in the glass industry not as a glassblower but as a glass collector in California. In the year 2000 he opened a glass gallery in Riverside, CA called High Vibrations, and he spent much of his time in the early 2000s managing and acquiring new pieces to sell at the shop. High Vibrations was one of the earliest distributors for glass pipes in North America, so Al_K_Glass got to see all kinds of glass pipes and bongs made in various styles, though in those days most glass was typically of the "fuming/color changing" variety. Al_K_Glass also dabbled in various creative pursuits during this time period and occasionally blew glass as a hobby.
High Vibrations closed down in 2009, and Al_K_Glass lost half of the shop in a divorce, so he moved on and began to pursue glassblowing more earnestly. He had found a glassblowing mentor in one of the former employees of his shop, and so Al_K_Glass had already begun learning various fundamental techniques by the time High Vibrations closed down. As he learned more, Al_K_Glass would regularly watch other blowers work and then attempt their techniques on his own torch. The first items that Al_K_Glass blew and sold were small glass bee sculptures. His experience with other artistic mediums like clay sculpting proved to be beneficial to Al_K_Glass as he dived into glass sculptural work with a passion.
Al_K_Glass's work achieved a higher level of artistic quality after he attended a formal class taught by legendary sculptural artist Eli Mazet. Mazet is known for his signature sculptural shot glasses, and at the class Al_K_Glass learned to make artistic shot glasses and sherlock pipes as well as making substantial improvements to his own sculptural techniques. Now Al_K_Glass' pieces are characterized by amazingly clean and detailed sculptural work. Much of Al_K_Glass' inspiration comes from strange and bizarre subject matters like aliens, parasites, and monsters. A lot of Al_K_Glass' work could be described as character pieces, but he almost never reproduces characters from other media like film or television; Al_K_Glass' creations are totally unique and all his own. He has pursued sculptural techniques with a fervent passion, and his years of efforts to learn these techniques have resulted in amazing and unique creations that could never be mistaken for the work of another artist.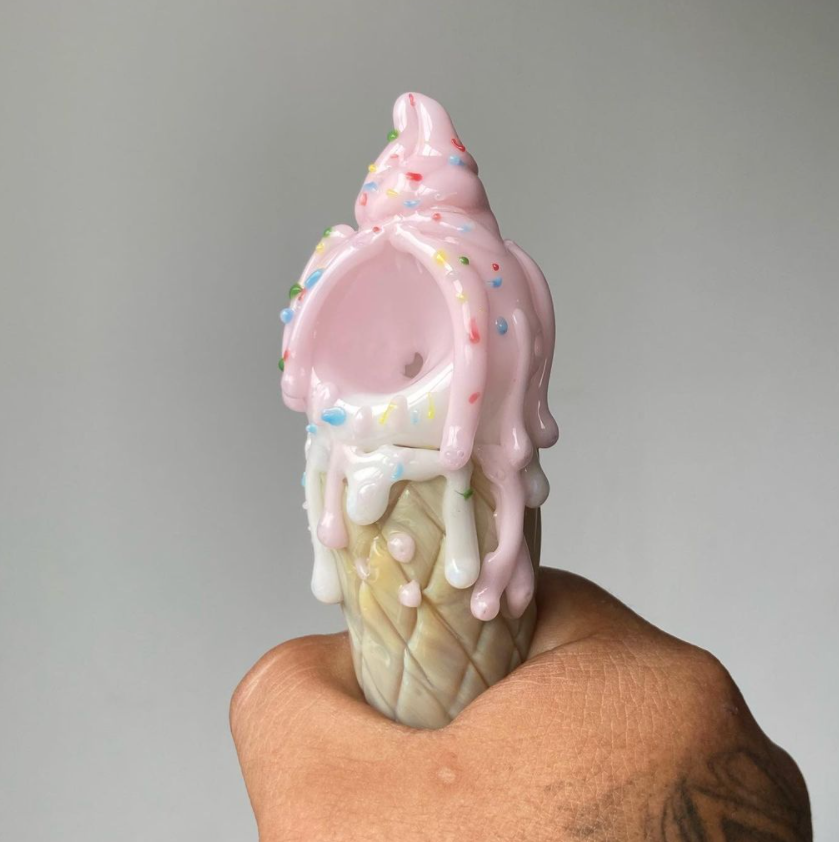 A few years ago Al_K_Glass opened another glass gallery, this time in Lima, Peru, and he believes that he may be the only source of heady glass pieces and glassblowing knowledge in the entire country of Peru. Al_K_Glass had a vision of introducing the local Peruvian community to the world of artistic cannabis glass, and so far this vision has played out almost exactly as Al_K_Glass imagined it would. His shop in Lima has been a big success and Al_K_Glass typically travels there and spends two months out of the year teaching classes and helping to manage the shop. During the other ten months he travels and purchases pieces that he wants to display and sell at his shop in Lima. In this way, Al_K_Glass has cultivated a brand new culture for heady glass in Peru and the Peruvian glass culture is growing at an astonishing rate thanks to Al_K_Glass' efforts.
In the future Al_K_Glass wants to continue to nurture the young glass communities of South America and especially of Peru, and he hopes to expand his glass gallery to other countries in South America. One of his greatest success stories was a student who goes by the handle @bella_k_glass1 who may be the first independent female glassblower in Peru. For his own artistic works, Al_K_Glass hopes to make pieces that are even more complex and heady than anything that he has made in the past. Through his glass works Al_K_Glass hopes to make a name for himself and be recognized by the industry as a great artist. You can check out Al_K_Glass' shop in Peru at the High Vibes Glassworks Instagram page, and you can check out more of Al's work over at the Al_K_Glass Instagram page.