Elev8 at 8 with special guest Sean O'Tron Glass
Published by Elev8 Presents on 8/19/2021
We talked to longtime friend and core member of the Elev8 Premier team Sean O'Tron Glass about his career in glassblowing and his unique artistic style. Sean is one of the longest standing members of our team of glassblowers at the Elev8 Premier studio, but before he joined our company he never imagined that he would some day become a glassblower. He often admired the works of other glassblowers, but unlike many other blowers Sean O'Tron never felt a specific urge to try his hand at working molten glass. That all changed when he answered a job listing seeking a warehouse worker for one of our previous manufacturing facilities.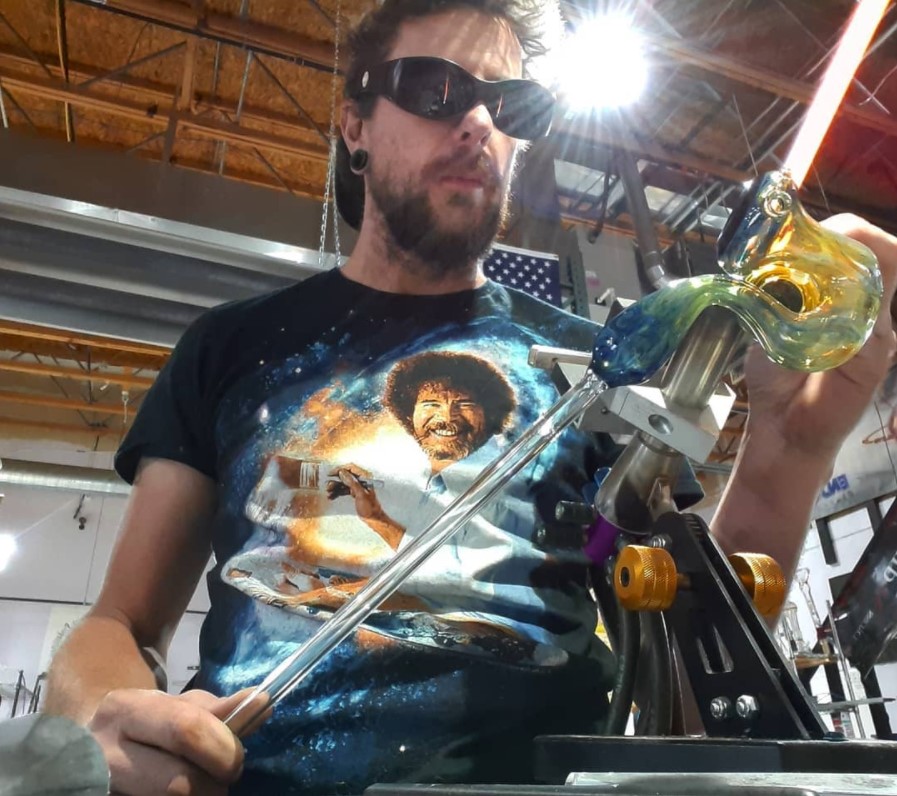 Sean was hired to be a manufacturer for 7th Floor Vaporizers, now known as Elev8 Distribution, some ten years ago. 7th Floor Vaporizers manufactured the Silver Surfer Vehicle and its spin-off products the Super Surfer Vehicle, Da Buddha Vehicle, and the discontinued Life Saber Vaporizer. When Sean O'Tron was first hired at 7th Floor Vaporizers he manufactured components for our vehicles, assembled vehicle units, wired vehicle units, and by the time time he left 7th Floor Vaporizers to join the glassblowing team at Elev8 Premier he was responsible for some of the most sensitive assembly tasks like custom Wave Rider sublimation. After two years at 7th Floor, Sean O'Tron moved over to Elev8 Premier to lend a hand with blowing the glass components that we need for our vehicles like wands and heater covers.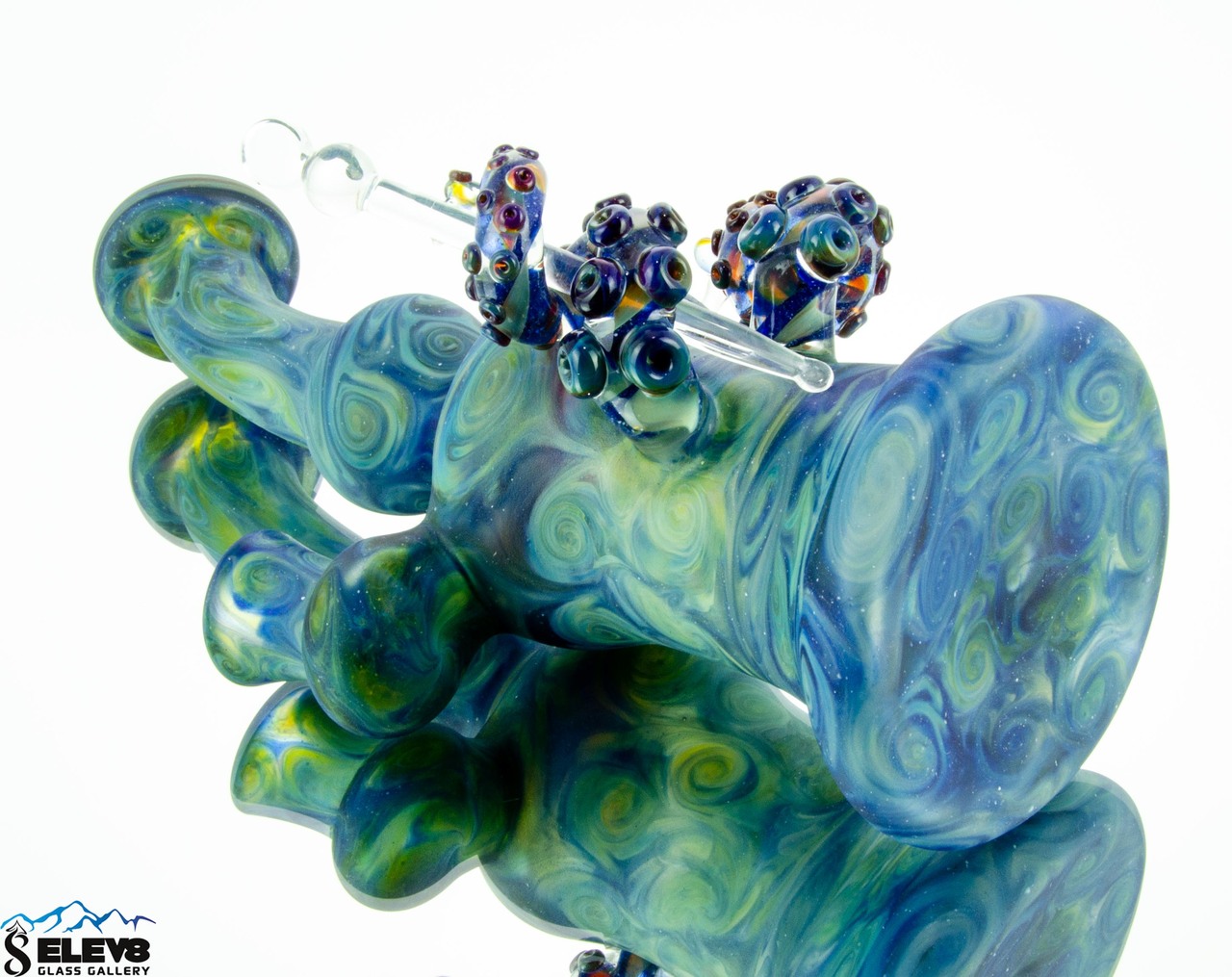 Glassblowing is an intensely involved craft that requires a lot of perseverance and eye for detail. Sean O'Tron worked with our CEO, glassblower, and resident inventor Steve Kelnhofer (@ssv_steve_elev8) as well as studio manager and glassblower Jeff Engle (@simplyglass21) to learn how to make simple components for the Silver Surfer Vehicle, Super Surfer Vehicle, Life Saber Vaporizer and the Da Buddha Vehicle. The first items he blew were marbles, and Sean maintains that marbles are an excellent tool for budding glassblowers to learn the fundamental techniques like heat saturation. The Elev8 Premier glass studio was still relatively new and during this time period it often took new Elev8 blowers a long time to learn techniques, so Sean had to fight his way through every technique that he learned along with Steve and Jeff. In the time since, and as he blossomed into an amazing artist, Sean O'Tron lent his expertise to help refine our systems for teaching new blowers, and now a new blower at Elev8 Premier will only take about a year to learn what took Sean several years to learn and refine.
Now Sean O'Tron is one of the most crucial members of the Elev8 Premier team, and his personal style is often marked by the use of dot stack techniques and a unique swirling technique which most of us refer to as Sean's "Starry Night" style in honor of the late Vincent Van Gogh. Sean O'Tron's "Starry Night" pieces truly do resemble the works of Van Gogh in a way that no other glassblower can emulate. Sean stumbled onto the technique in the early days of his glassblowing career when he was attempting to force different colors of glass to mix like paint. Anyone who has worked with glass long enough would have told Sean O'Tron that his efforts were in vain as glass colors cannot be mixed like paint, they'll simply stretch and continue to get thinner without ever mixing together. Sean O'Tron kept working and swirling the colors more and more hoping that they would eventually coalesce, and the result was a fantastic swirl of tiny strings of color that quickly became Sean O'Tron's signature style.
In the future Sean O'Tron intends to continue pushing the envelope of his own talents and abilities in the world of glass art. His advice to other blowers who are trying to find their own personal style is to learn new techniques and then "fuck it up" in a way that makes the technique unique to that blower. If you do everything exactly the way that you are taught then you will never find the uniqueness needed to make your work stand out among the crowd. Sean O'Tron doesn't compete very often, though he has entered a few events here and there and he won our in-shop battle tops competition two years in a row. In his free time Sean loves to hike and do just about anything outdoors, and he especially loves his dog Luna (pictured below). All in all Sean O'Tron feels incredibly fortunate that he was able to serendipitously stumble into his calling in his own home town, and we feel incredibly fortunate to have him on the team. You can check out more of Sean's amazing work over at the Sean O'Tron Instagram page.