Elev8 at 8 with special guest Roboglass
Published by Elev8 Presents on 9/15/2021
We talked to glassblower Roboglass about his distinctive line work and about his life, career, and sources of inspiration. Roboglass was first exposed to glass art through a soft glass class that was available at his high school, Roboglass took the class and heard rumors that they might add an actual lampworking course but the school apparently decided against the idea because they were worried that students would try to make pipes and bongs. A few years later Roboglass was out of high school and he was living in a house with an unused garage space. A friend set up a small glassblowing studio in the garage and Roboglass started learning what he could from the friend, like basic techniques and simple products like spoon pipes and marbles.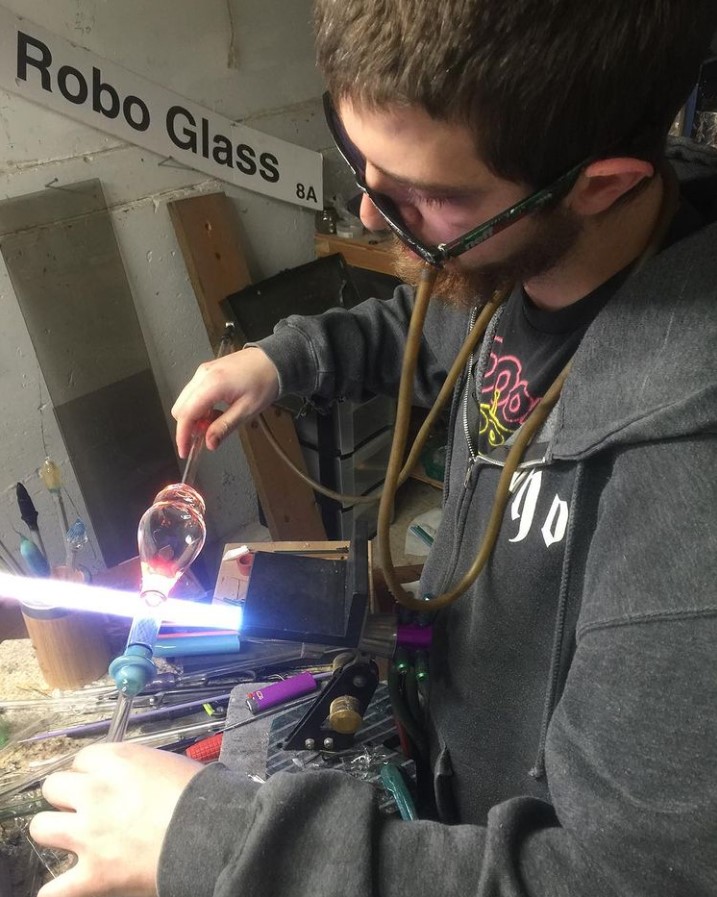 At the beginning of his career as a glassblower, Roboglass stumbled onto an artistic glass technique that would define his work for years to come. Roboglass attended a lot of concerts and was always amazed by the intricate patterns that the lighting teams would create with crisscrossing laser beams. Using lasers these lighting engineers could create insane web-like designs and netting patterns, and Roboglass wanted to attempt to recreate these patterns in glass. After doing a bit of research, Roboglass learned about the old Venetian glass technique known as 'reticello', and he pushed himself to learn this fairly advanced technique within his first year of blowing glass.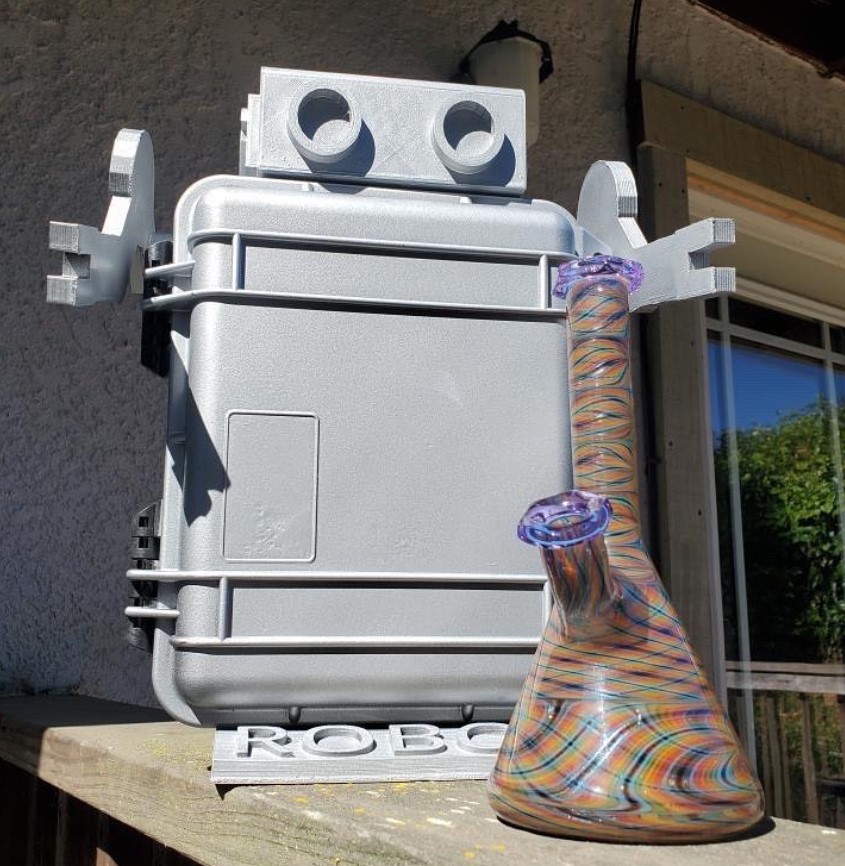 Eventually Roboglass made a connection through a headshop and met another blower named Natty who taught classes at a glass art school in Seattle, Washington. Roboglass didn't take any formal lessons from Natty, but he credits Natty as an early mentor who provided him with a lot of information and tips in the early phases of his glassblowing journey. As he progressed, Roboglass attended a few key classes that had a huge influence on his artistic style. The first was a fillacello class from J-RED, a very similar technique to reticello, and the other was a tubing lathe work class from Jake C Glass. These classes helped Roboglass push his line work and vessel shaping to the next level, and soon after he began producing the "machine clean" reticello and fillacello designs that earned him the name 'Roboglass'.
New glassblowers often fall into a bad habit of biting off more than they can chew in regards to their custom commission orders, and it can be hard to avoid the pitfalls that come along with custom commissions. Roboglass struggled with this as he began to make a name for himself as a glass artist, often finding himself frustrated by the difficulty in communicating with customers who rarely understand the intricacies of how glass works and behaves. It's for this reason that Roboglass rarely takes custom commissions now, and when he does accept a commission it's because the patron is allowing him a lot of creative freedom and is familiar with his typical aesthetic style. A lot of Roboglass' inspiration comes from color theory and the expression of colors in nature. He is still fascinated by lasers, and he maintains a coral reef tank which provides a lot of inspiration for interesting color combinations that he can potentially use in his line work. Roboglass is constantly searching for new combinations which could yield interesting results, and he has to be careful about the colors that he chooses because some combinations simply will not work in glass; they'll get muddled up or the complementary contrasts may become lost and blended together by the eye.
All of this thought and hard work are expressed in Roboglass' amazing pieces, and his line work is among some of the best in the glassblowing industry. In his spare time Roboglass brews alcohol, especially hard ciders, and he even has a small grove of apple trees which are especially bred for cider production which he maintains for his brews. This hobby led him to start making artistic glass cups, a product which provides a surprising and unique level of challenge that Roboglass finds enjoyable. While Roboglass' line work is amazing he recognizes that there's always room for improvement, and in the future he intends to continue pursuing cleaner and more precise line work than he has ever produced in the past. You should definitely keep an eye on this amazing artist, and if you want to see more of his work go check him out over on the Roboglass Instagram page.