Elev8 at 8 with special guest Highboy Glass
Published by Elev8 Presents on 8/26/2021
We talked to longtime glassblower Jason Barr of Highboy Glass about how his life led him to a career of making glass art. When Highboy Glass was a kid in Colorado he had a neighbor and family friend who was a professional glass artist. The neighbor mostly made trophies and other decorative items from clear glass which he would sell to art shops, and this gave Highboy Glass an early exposure to sculptural glass which would have a tremendous impact on his eventual career as a cannabis glass artist. Highboy Glass was helping his neighbor with simple tasks like sand finishing pieces when he was as young as ten years old. When he was nineteen Highboy Glass took a road trip out to Oregon and loved the area so much that he stayed there for more than ten years.
It was in Oregon that Highboy Glass first fell in love with cannabis culture and the local cannabis glassblowing community. He made connections with several glassblowers in the area and began learning some fundamental techniques as a side hobby while he pursued a career as a professional arborist. Highboy Glass was especially fascinated by the "inside-out" technique that was becoming popular at that time, but he had trouble finding anyone who could explain the technique used to achieve that "3D underwater" visual style. Years later when he moved back to Colorado, Highboy Glass described the "inside-out" style to his neighbor and they developed a method to achieve a similar visual effect: the neighbor would slice and flatten tubing, decorate the tubing's exterior, and then flip it back into a tube shape in the opposite direction so that the former exterior became the new interior.
Highboy Glass' fascination with the "inside-out" style persisted until he met an early mentor named Eric Stecker, a figure who is notable for freely sharing his knowledge with up and coming glass artists. Highboy Glass learned many foundational techniques from Eric Stecker, including the proper technique for flaring a tube out and then decorating the interior of the tubing before shrinking the flare back into a tube shape and working it into a pipe, thus creating a true "inside-out" design. At this point Highboy Glass had spent years tinkering around with glass art as a hobby, but his career as an arborist was beginning to take a physical toll on his body; he was starting to have back problems that were preventing him from working effectively as a professional arborist, so he started to consider embracing his glassblowing hobby fulltime.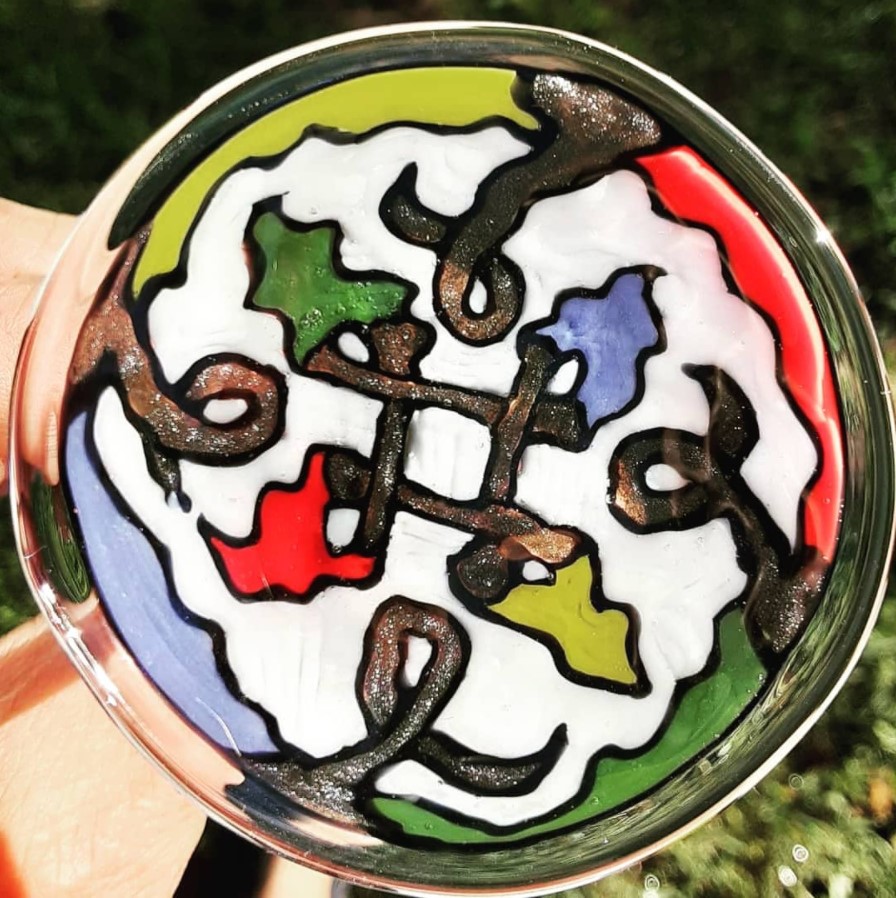 Highboy Glass' eventual decision was to quit arboriculture and to take a position as a scientific glassblower, a job which paid $8/hr less than his previous position as an arborist. Highboy Glass absorbed the financial loss and embraced his new role as a scientific glassblower with fervor, working with borosilicate and quartz glass to create various vessels and contraptions needed by the scientific community. This gave Highboy Glass an amazing foundation of knowledge in the technical aspects of glassblowing, but after a few years he began to feel less fulfilled in his position and so Highboy Glass quit his job and began to pursue a career as a fulltime cannabis glass artist. Highboy Glass has never looked back since.
In the world of cannabis glass, Highboy Glass quickly began to make a name for himself for his astonishing sculptural works. Highboy Glass' name largely comes from his love for rat rods, especially the Highboy Roadster, a car model that is often modified for rat rod builds among members of a subculture known as Kustom Kulture, a movement that is typically associated with the Rat Fink character created by artist Ed "Big Daddy" Roth. The Kustom Kulture and Rat Fink subculture blends 50's rock and roll aesthetics with the punk rock mentality that was beginning to emerge in the late 60's and early 70's. The sculptural works that Highboy Glass produces thoroughly embodies this subculture. Highboy Glass creates astonishing character pieces with pop culture icons riding atop Highboy Roadsters, absolute monsters putting the pedal to the metal and shooting flames from their exhaust pipes. After years of experience, Highboy Glass is creating some of the best and most artistic and heartfelt sculptural pieces in the glassblowing industry today. You should definitely check out more of Jason Barr's amazing work over at the Highboy Glass Instagram page.