Elev8 at 8 with special guest Diligent Glass
Published by Elev8 Presents on 10/11/2021
We talked to glassblower Diligent Glass about his career and his love for the arts and his local community. Diligent Glass grew up on a farm near Rothbury, Michigan, the home of the Electric Forest Festival, and he has always been deeply embedded in jam band culture and the artistic scenes that are associated with it. He loved music in high school and regularly attended local shows, and through the concert scene he was exposed to cannabis glass, beadmaking, sculptural glass, and other artistic mediums. Diligent Glass won a woodworking award from his high school, and in college he hosted a radio show that helped to deepen his connection with the local art scene. Diligent Glass also had something of an entrepreneurial streak; in the first grade his mother bought him a Pokémon magazine that included a sheet of temporary tattoos, and Diligent Glass sold the tattoos to other kids on the playground, a story which his mother loves to recount.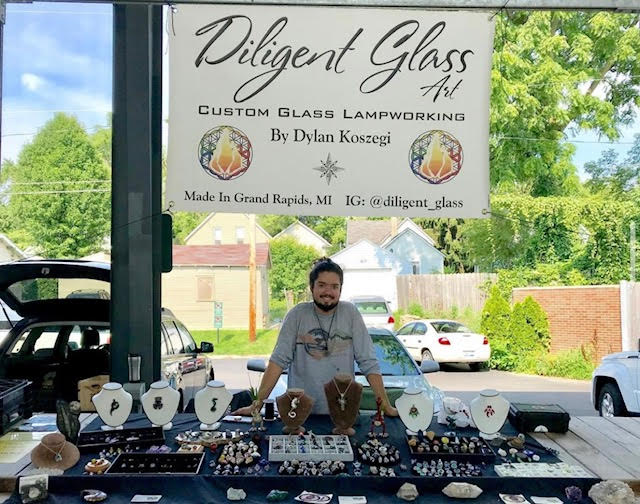 In 2012 Diligent Glass helped form a collective art gallery that sold the works of local Michigan artists. During this time Diligent Glass was making custom hat pins, and he sold his hat pins through the collective as well as acting as a wholesale distributor for the art collective, securing sales and generating income for the other members of the collective. For a while Diligent Glass followed the band Pretty Lights and sold his hat pins at tailgating parties where the band played. He would often sell art in front of local venues like The Intersection in Grand Rapids, and he started running into local glassblowing artists like Steven Wheeler and Kyru Glass who also frequented the same scenes and venues.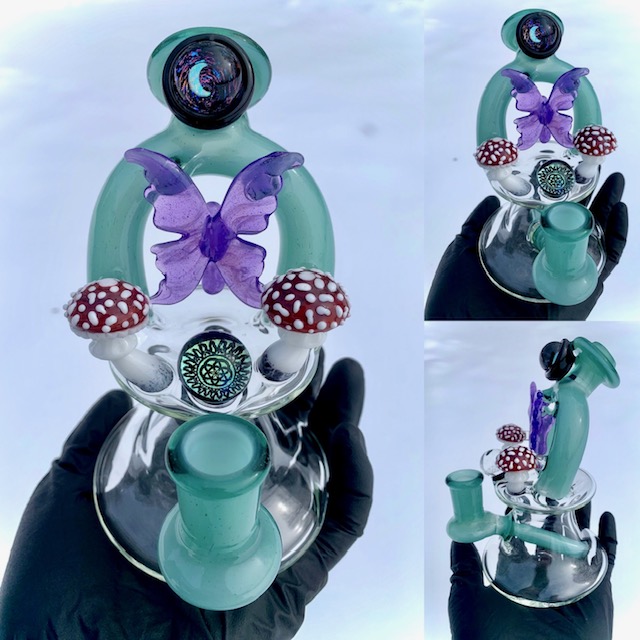 Steven Wheeler, aka Koldwerk, is an incredible glass artist and tattoo artist, and he was Diligent Glass' first mentor in the world of glassblowing. They met through the local art scene and eventually Wheeler asked Diligent Glass if he wanted to give glassblowing a try some time. The first time that he tried his hand at blowing Diligent Glass was immediately hooked, finding the process to be a perfect combination of satisfaction, stimulation, and relaxation. One has to be completely mentally present when working with molten glass, and when a blower enters that mental 'zone' they achieve a meditative state. Diligent Glass fell immediately in love with the process and with the medium of glass as a tool for artistic expression.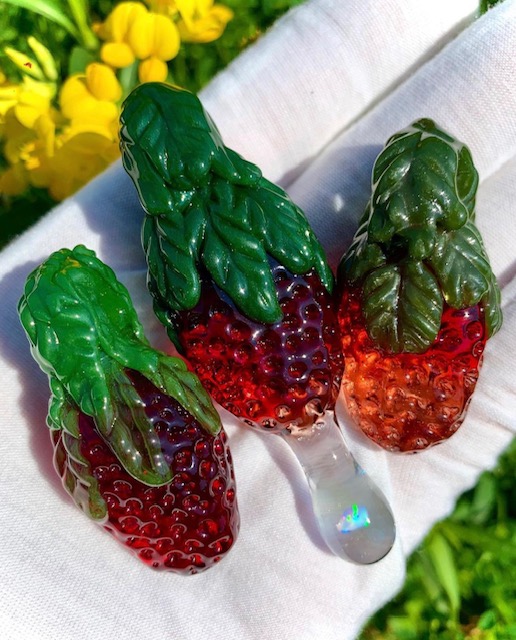 Diligent Glass was largely self-taught by applying the techniques that he learned from his mentors, and he has never taken a paid formal class. Diligent Glass had a rare opportunity to become an apprentice to Marcel Braun, a renowned glass artist and member of the glass art collective known as Project 33 at 'the Starship' in Eugene, Oregon. During this apprenticeship Diligent Glass was honored to participate in a stage performance at the Glass Art Society as Marcel Braun's assistant. Following his apprenticeship Diligent Glass set out on his own path in the world of glassblowing, developing a personal style that heavily favors sculptural techniques with gorgeous pastel tones and curving, feminine forms.
Diligent Glass' work is distinguished by his astonishing eye for symmetrical design and shapes inspired by clouds, foliage, insects, and much of the natural world. His color palettes are beautifully arranged and pleasing to the eye, and his techniques may be some of the cleanest in the industry. Diligent Glass gets much of his inspiration from the works of other artists, and in a strong personal sense of nostalgia which he attempts to capture in his work. Diligent Glass strives to collaborate often with artists who work in other mediums like woodworking and laser engraving, and he loves to find unique ways to combine such radically different artistic methods. One of his favorite side hobbies is disc golfing, something that Diligent Glass has been passionate about for a long time, having grown up near Flip City, one of the nation's largest and most notable disc golf courses. Diligent Glass has a special love for his community and for the State of Michigan as it affords him the ability to live in a diverse and relaxed community, and his passion for glass continues to grow exponentially. In the future Diligent Glass is planning to produce more and larger pieces, as well as large art installations like the sort that are displayed in galleries or public spaces, and this is pushing Diligent Glass to learn more about soft glass techniques which will be needed to produce such large artistic installations. You can check out more of Diligent Glass' work and be sure to give him a follow over at the Diligent Glass Instagram page.