Elev8 at 8 with special guest Burning Snow Flameworks
Published by Elev8 Presents on 4/30/2021
We spoke to Kai Hogen, the brains behind Burning Snow Flameworks, about how the glassblowing industry has evolved since he first started blowing glass in 1997. In that time Kai was ski bumming in Bozeman, Montana and heavily followed the scenes around jam bands like the Grateful Dead and Phish when he wasn't skiing. He eventually developed a crush on a girl whose boyfriend was an apprentice for veteran glassblower Sam Avalon, and it was through this connection that Kai met Sam Avalon. Kai appealed to Sam Avalon to become Avalon's apprentice, but Avalon was already teaching three different apprentices and wasn't willing to take on another. Instead, he extended an invitation to Kai to watch him blow anytime Kai wanted. Kai watched Sam Avalon blow every day for a full year, each day begging Avalon to let him get on a torch, and each day getting turned down. Finally after a year of passively watching, Sam Avalon allowed Kai Hogen to jump on a torch one night after all the other blowers had left, and Kai surprised him by blowing a spoon pipe on his first attempt. After watching Sam Avalon blow for a year, Kai had picked up enough technique just by observation to make a piece that many blowers don't attempt after hours of torch practice. At this point, Avalon took Kai Hogen on as a full-time apprentice and taught him many techniques that he still employs in his art today.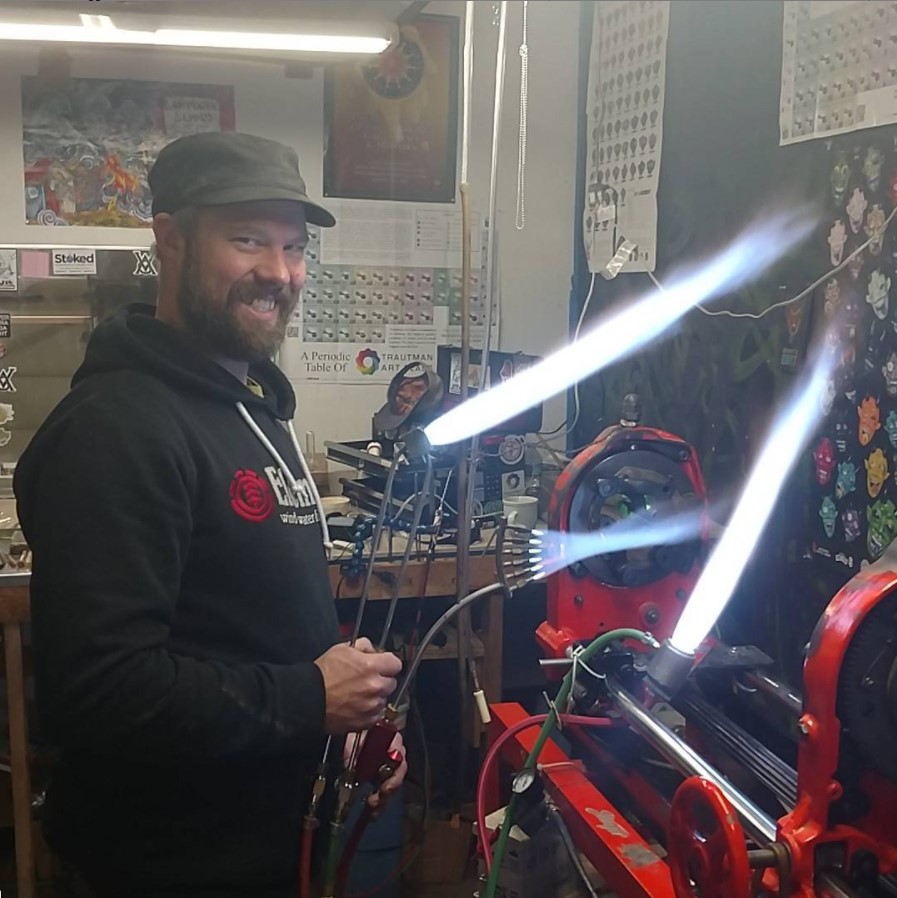 Eventually Kai Hogen would move on to form a company with other Montana glassblowers called High Country Glass, being one of the first companies to advertise cannabis glass in High Times Magazine. High Country Glass quickly made a name for themselves with their High Times ads, and attracted some unwanted attention in the process. They got raided by Federal agents and shut down. After this event, Kai Hogen would not attempt to make cannabis glass again for many years. Instead, he moved to Albuquerque, New Mexico and started making art glass for galleries in Albuquerque, Santa Fe, and the surrounding areas. He joined another collective called the Albuquerque Glass Alliance and spent a lot of time and effort trying to get his work displayed in art galleries. He found the art glass scene to be tough and somewhat elitist, with many galleries refusing to work with anyone that didn't have college-level training or experience learning from master art glass blowers. Gradually he stopped blowing entirely, and throughout much of the mid-2000's he never touched a torch.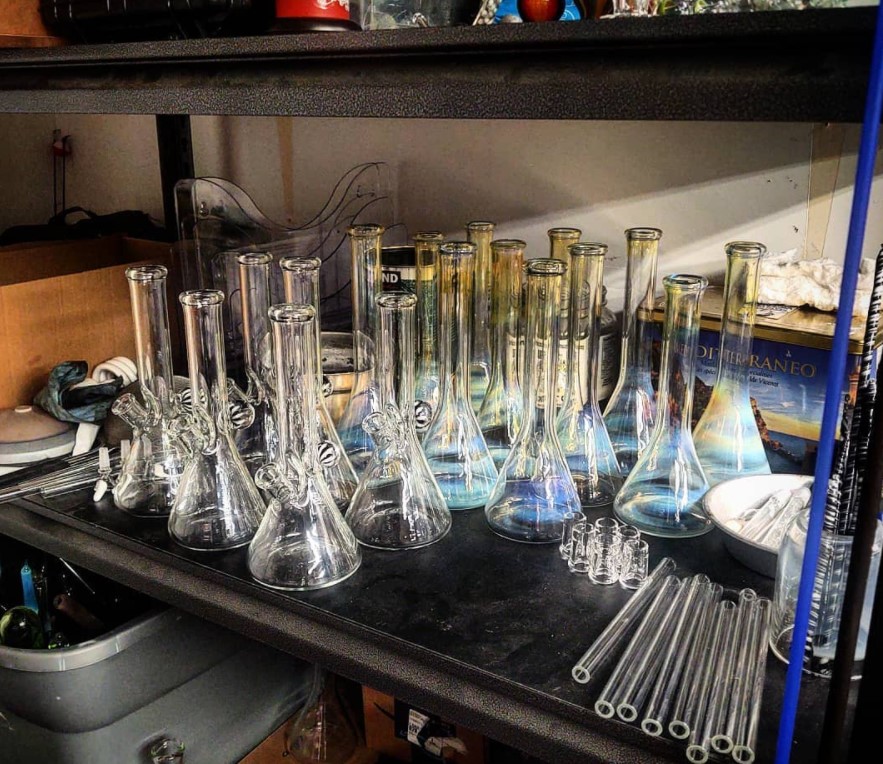 In 2011, Kai Hogen and his wife tragically lost a son. This event spurred Kai to revisit his original love for cannabis glass, and he started making pipes and preparing to sell them at events. When he visited his first expo after his return to cannabis glass, he was blown away by the major evolutionary leaps that had been made in the industry during his nearly decade-long absence. Kai was astonished by the wide variety of techniques and styles that were being employed: recyclers, diffusers, heady glass, scientific and sculptural glass, it was all brand new to him and he learned as many new techniques as he could by networking with other blowers at events and through collaborations.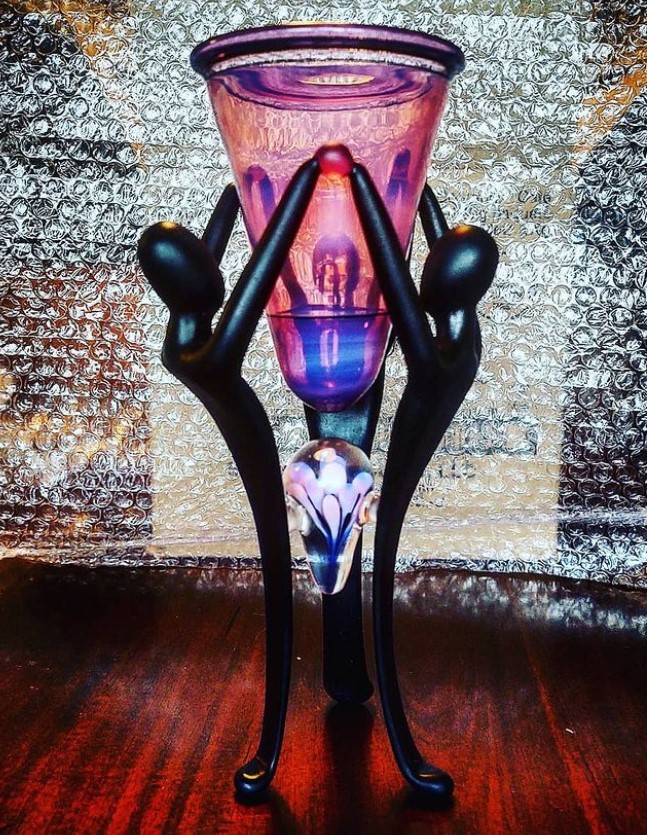 Now, Kai Hogen and his studio Burning Snow Flameworks are a powerhouse in the cannabis glass industry. Burning Snow Flameworks' style comes from a hybridization of old and new techniques. Kai often utilizes traditional techniques taught to him by his mentor Sam Avalon. Kai Hogen finds his muse in religion and spirituality, citing God as his primary source of inspiration. His favorite glass techniques are fuming and color-changing, finding both to be simple techniques that can be manipulated endlessly to create more and more advanced results.
In the future, Kai Hogen says that he eventually plans to step away from Burning Snow Flameworks and pass it on to his students. His sights are now set on opening an interactive studio in Bozeman, Montana that will feature open torches, glassblowing classes, and torch booth rentals. We think that's going to be a welcome addition to his local community and we encourage anyone who lives in the region to keep an eye on Kai Hogen. You can check out his amazing work at his instagram page. (@burningsnowflameworks)