Description
Design Your Own Wave Rider!
Put your own image on a Silver Surfer! This WRS will be a one of a kind device made just for you. You will get the #2 and our founder Steve will get the #1 for his display collection of #1s. No other unit will ever be made than the #1 and #2, ever. We require 300dpi imagery as our printing and sublimation process is extremely detailed.
In the digital age many of you will have your art in a digital format and may not be able to know if your art is 300dpi. For this we can suggest to use art that is at a minimum of 1920x1080 at 72 dpi. Here we also recommend that the higher the dpi, the better.
Download the template PSD Template Here.
Please submit your image to customercare@elev8distribution.com so it can be approved. If we have any questions we will get back to you. The Wave Rider Series is very special to us so we will not ever print anything that looks bad. The resolution quality needs to be very high, if it is not high enough we will just can not print poor quality as the Surfer is the premier device in the galaxy.
Once you have put your art on the template you can email us the file as the highest resolution you can save it as a JPEG.
You can also browse through our in-house, artist, and band designs here.
If you don't have your own image but have an idea for one, we can create a design for you! There is a $100 hourly charge for custom work, and the first hour is non-refundable. Contact us for details.
The Silver Surfer Vehicle® was the first device to employ a ceramic heater element and pure glass-on-glass air flow for the best possible flavor. And now, 100,000 units and ten years later, Elev8 continues to dominate the desktop vape category with the SSV, noted for its simple operation, versatility and durable design. Each unit is assembled and tested by American workers - not in China or Germany or some nameless overseas factory - but hand-crafted in Colorado Springs, CO. Our talented staff of glass-blowing artisans provide the finishing touch with a custom made, hand-blown temperature control knob - ensuring that no two Silver Surfers on planet earth are alike.
Glass-On-Glass design produces pure, great tasting flavor

The ceramic heating element provides even convective heat, reducing the risk of combustion

The angle of the heater-cover to wand connection prevents the flower from falling into the element

Custom hand-blown glass temperature knob ensures no two Silver Surfers are alike

Highly customizable - select housing and base colors as well as custom glass accessories

Each unit is built and tested by hand in Colorado, USA

Heater temperature is adjustable to fit your personal inhale speed and chosen herbal blend

Ships in a high-quality hemp and polyester padded bag with compartments for all accessories

Easily converts into the safest e-nail on the market
---
FEATURES 2 COATS OF POWDER COATING FOR EXTRA DURABILITY

IMAGE IS SUBLIMATED INTO THE POWDER COATING LIKE A TATTOO IS IN YOUR SKIN. THIS ART IS NOT COMING OFF!

SCRATCH AND PEEL RESISTANT

BE UNIQUE, BE DIFFERENT & BE YOU
The Wave Rider Series is manufacturing taken to another level! Each unit is painstakingly powder coated 2 times. The first coat is white that is then wet sanded to be extra smooth. The next special sublimation powder is then put on next and baked again. Learn more about the art of sublimation on our blog. This is a really neat process that makes the art super durable! The ink actually goes into the powder coating making the art a part of the Surfer. You can expect years and years, if not a lifetime for the art to stay as nice as the day you first got your Surfer.
---
TESTED! SSV units have been known to run 10+ years

Rust and degradation resistant

Quality tested for 24/7 use

Clean metal-free hits.
The Ceramic heater is the foundation of all our units. Tested for 10+ years of 24/7 use on any temperature. We are the first company in the industry to offer this type of ceramic heater. The ceramic heater is the benchmark of heaters because of the protection the ceramic offers the element. By fully encasing the element and keeping it away from the air, oxidation is eliminated making for a time tested long-lasting heater that gives amazing flavor.
---

Clean tasty inhale every time

Easy and Convenient cleaning and maintenance

Quality Hand-blown glass from Elev8 glassblowers

Nearly any glass part can be upgraded to be a unique as you.

Designed and engineered by a blower and grower you will see what makes the Super Surfer the choice vehicle/dab machine/diffuser for the connoisseur

Allows easy connection to any rig

The bag mouthpiece also fits in nearly any 14mm or 19mm female joint.
The glass on glass connections are the signature of our units and the Super Surfer is no exception. Spherical Glass allows for use with the hands-free attachment. This connection ensures the joint never gets stuck and offers a bowl size 33% larger than ground glass. But the innovation never stops with the new spherical flavor disc bowl that is again 33% larger than the standard spherical. See the evolution of our wands and heater covers in our blog.
Learn All The glass Types We Have Made For The Silver Surfer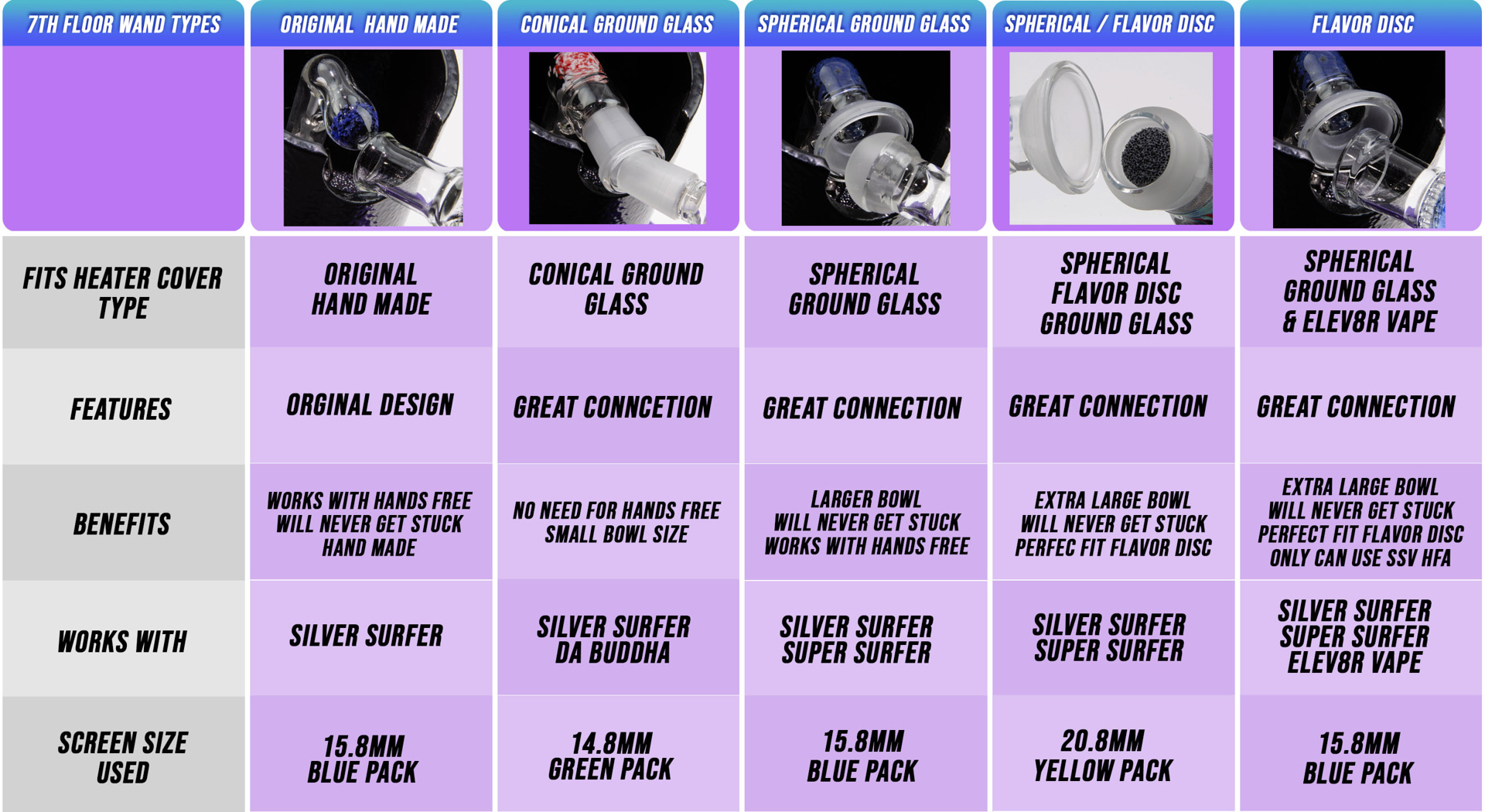 CLICK ON THE IMAGE TO ENLARGE
---

The angle keeps herbs in the wand where they belong

This angle also reduces stress on the glass as the housing helps hold the wand when paired with the included hands-free attachment

Includes a spherical ground glass hands-free attachment
The angle of the Super Surfer allows for the hands-free attachment, spherical glass, and reduces the stress on the glass heater cover and wand. This angle also keeps your herbs from falling into the heating element while maintaining the ergonomic comfort in which your hands naturally rest.
---

Adjust the heat to fit any herbal blend or essential oil

Find the setting that fits your personal inhale speed

Remove the knob to set the indicator where you want
Everyone inhales at a different pace, so for convection vapes, setting the heat to a specific number produces different results for different people. In addition, all herbal blends and essential oils vaporize differently. We have left out any numbered settings so that you can find the temperature that works best for you. The removable knob allows you to set the indicator wherever you prefer to mark your "sweet spot".
---

Pockets designed to hold all accessories

Durable hemp/polyester blend exterior

Velvet interior to keep your SSV and glass comfy.
The Super Surfer Storage Bag is made with the mentality of "Super" in mind. Handmade from the same durable Hempster blend and now featuring 8 pockets for the Super Surfer accessories. Elev8 uses the bags rather than a box in their attempt to be green. The packaging is needed, so why not use a packaging that is reusable? Well, the Silver Surfer does just that. With the built-in strap on the Silver Surfer bag, you will be able to toss your cooled down SSV inside the bag and go.
---

Glass top affords you the option of using wax melts

Keep your home smelling great with your favorite scent

Dish design allows you to consume and diffuses all at once

Leave on your SSV 24/7
The aroma top lets you keep your home smelling great with waxes or oils 24/7 without interrupting your experience. Elev8 also sells our collection of wax and oil scents that work perfectly with the Silver Surfer Aroma Top. The great thing about the Aroma Top is that if your partner does not consume, this is still a machine they can use. No other device on the market can consume and diffuse at the same time.
---

Made from 1/4 inch thick airplane grade aluminum

The durable powder-coated finish will never fade

Customizable housing means yours is one-of-a-kind
For over 10 years the SSV has been the worlds most customizable devices. This means that along with our normal selection of colors, you can also choose from a variety of artist and band designs, or design your very own! We start with a white-coated housing covered in a specialized gloss coat, then we use sublimation to bind any photo or graphic to create a super durable and vibrant full-color unit!
---
Essential Oil Kit (Dab Dish)
With the Dab Dish, your Silver Surfer Vaporizer becomes the ultimate hybrid machine. Dabs, dry herb and the ability to diffuse makes the Silver Surfer SUPER.


Easily switch between the EOK dab dish and dry herb heater cover

Features a quartz dish that works like any banger or e-nail, but safely sits inside the Silver Surfer
Custom Wands
Elev8 Premier can make you nearly kind of wand you like. We have a nice selection to pick from now, or you can call and talk with a blower to have your dream come true (after interpretation).

All glass pathway wand
Custom Knobs
Pick from our amazing upgrade knobs

Call to have a knob made how you like. The Silver Surfer Vaporizer is made to be unique like you.
Add water filtration

What's in the bag?
Silver Surfer Vehicle assembled with a hand-made glass Temperature Knob and Heater Cover

Padded Storage Bag made of a durable hemp and polyester blend called "hempster"

Packet of 10 Replacement Screens for your Whip Wand

Glass Whip Mouthpiece

Hand-made glass Whip Wand with Bowl

Stainless Steel Marble Pick

Whip Tubing made of food-grade vinyl

Ceramic Flavor Disc
Additional Details
SKU:

SSV-WRS-DESYOWRS

Use:

Collector

Use:

Concentrates

Use:

Flower

Use:

Hybrid

Type:

Warranty 1-3 Year