Description
Here is our new in-house Dawn Wave Rider by our New Media Director, Elyssa Robbins. Her Stargazer design sold out quicker than any design we've ever made, so we asked her to make another! This one was inspired by her childhood home up in the mountains of Colorado. The vape is engraved with an edition number above the dimmer light. The baseplate comes in ocean blue, but you have the option to choose a different color.
Shopping internationally? Use coupon code 220VOLT for a discount on your 220v Silver Surfer purchase!
WHY CHOOSE A SILVER SURFER?
Glass-On-Glass design produces pure, great tasting flavor
Ceramic heating element provides even convective heat, reducing the risk of combustion
Angle of the heater-cover to wand connection prevents flower from falling into the element
Custom hand-blown glass temperature knob ensures no two Silver Surfers are alike
Highly customizable - select housing and base colors as well as custom glass accessories
Each unit is built and tested by hand in Colorado, USA
Vaping temperature is adjustable to fit your personal inhale speed and chosen herbal blend
Ships in a high-quality hemp and polyester padded bag with compartments for all accessories
Easily converts into the safest e-nail on the market
WHAT'S IN THE BAG?
Silver Surfer Vaporizer assembled with a hand-made glass Temperature Knob and Heater Cover
Padded Storage Bag made of a durable hemp and polyester blend called "hempster"
Packet of 10 Replacement Screens for your Whip Wand
Glass Whip Mouthpiece
Hand-made glass Whip Wand with Bowl
Stainless Steel Marble Pick
Whip Tubing made of food-grade vinyl
Ceramic Flavor Disc
The Silver Surfer Vaporizer® was the first vaporizer to employ a ceramic heater element and pure glass-on-glass air flow for the best possible flavor. And now, 100,000 units and ten years later, 7th Floor continues to dominate the desktop vape category with the SSV, noted for its simple operation, versatility and durable design. Each unit is assembled and tested by American workers - not in China or Germany or some nameless overseas factory - but hand-crafted in Colorado Springs, CO. Our talented staff of glass-blowing artisans provide the finishing touch with a custom made, hand-blown temperature control knob - ensuring that no two Silver Surfers on planet earth are alike.
CERAMIC HEATING ELEMENT
Tested 10+ year life span
Rust and degradation resistant
Quality tested for 24/7 use
The Ceramic heater is the foundation of all our vaporizers. Tested for 10+ years of 24/7 use on any temperature. We are the first company in the industry to offer this type of ceramic heater.
---
GLASS-ON-GLASS CONNECTION
Clean tasty vapor every time
Easy and Convenient cleaning and maintenance
Quality Hand-blown glass from Elev8 glass blowers
Glass on glass connections are the signature of our vapes and the Silver Surfer is no exception. Spherical Glass allows for use with the hands-free attachment. This connection ensures the joint never gets stuck, and offers a bowl size 33% larger than ground glass.
Learn All The glass Types We Have Made For The Silver Surfer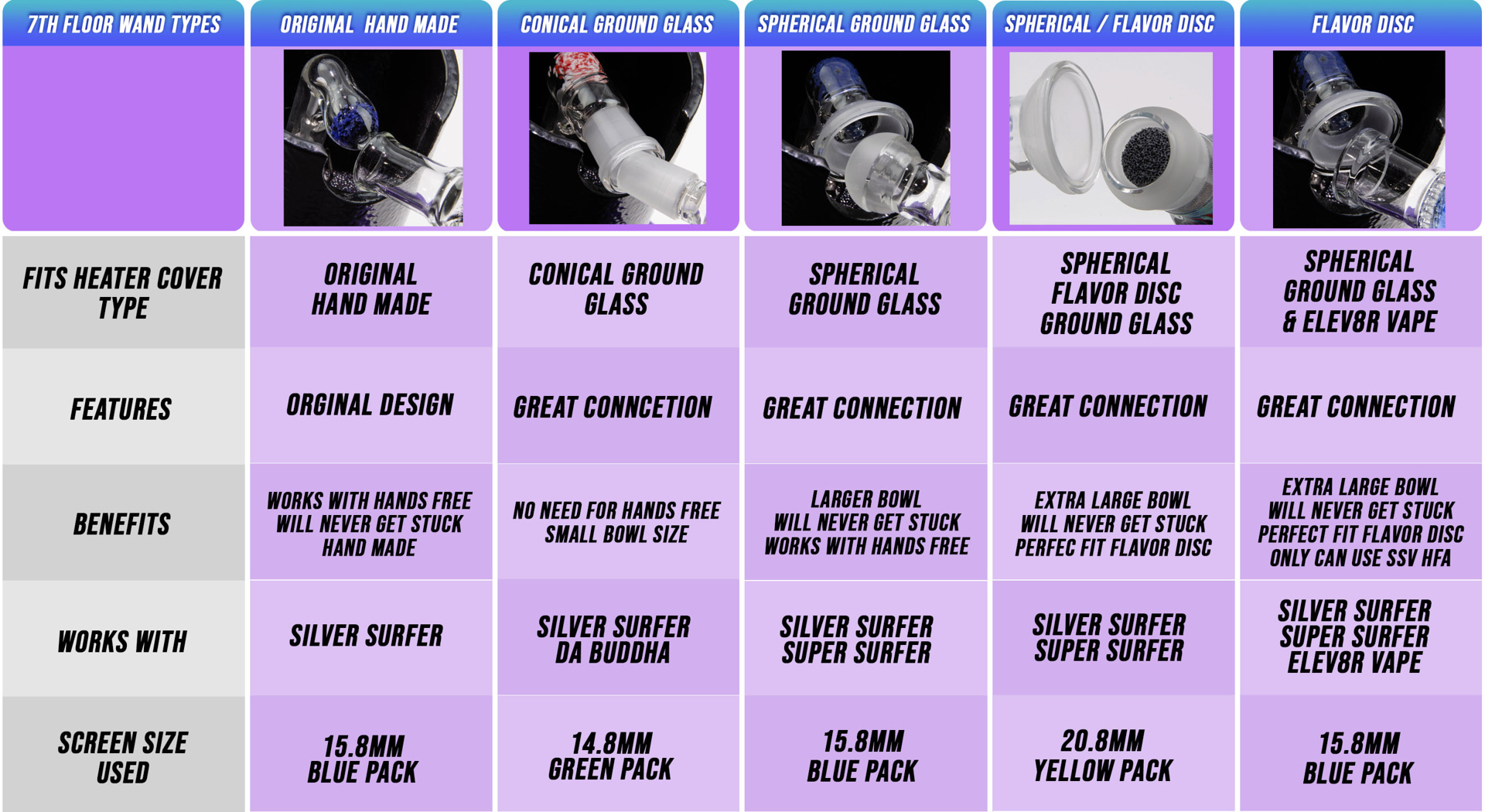 CLICK ON THE IMAGE TO ENLARGE
---
WHIP CONNECTION ANGLE
The angle keeps herbs in the wand where they belong
This angle also reduces stress on the glass
Includes a spherical ground glass hands-free attachment
The angle of the Silver Surfer allows for the hands-free attachment, spherical glass, and reduces the stress on the glass heater cover and wand. This angle also keeps your herbs from falling into the heating element while maintaining the ergonomic comfort in which your hands naturally rest.
---
HAND-MADE GLASS KNOB
Precise temperature control for the perfect heat
Customizable knobs to match your vaporizer
Glass is hand made by our Elev8 Glass team
Every vaporizer is crafted with a matching, unique, handmade glass knob ensuring no two SSVs are alike. This fully functional hand-crafted adjustment knob allows you to dial in to the perfect temperature to to fit your inhale speed and herbal blend.
---
CUSTOMIZABLE HOUSING
Made from 1/4 inch thick airplane grade aluminium
Durable powder coated finish will never fade
Customizable housing means yours is one-of-a-kind
For over 10 years the SSV has been the worlds most customizable vaporizer. This means that along with our normal selection of colors, you can also choose from a variety of artist and band designs, or design your very own! We start with a white coated housing covered in a specialized gloss coat, then we use sublimation to bind any photo or graphic to create a super durable and vibrant full color vape!
---
VARIABLE CONVECTIVE HEAT
Adjust the heat to fit any herbal blend or essential oil
Find the setting that fits your personal inhale speed
Remove the knob to set the indicator where you want
Everyone inhales at a different pace, so for convection vapes, setting the heat to a specific number produces different results for different people. In addition, all herbal blends and essential oils vaporize differently. We have left out any numbered settings so that you can find the temperature that works best for you. The removable knob allows you to set the indicator wherever you prefer to mark your "sweet spot".
---
PADDED STORAGE BAG
Made out of hemp and recycled polyester
Inner lining is velvet to protect the SSV
Carries everything the SSV needs for everyday use
The SSV ships in its own padded storage bag. Our bags are made of a hemp and polyester blend we like to call "hempster", with a heavily padded inner velvet lining to cradle the Silver Surfer. There are pockets both inside and out to carry all of the SSVs parts and accessories.
---
AROMATHERAPY DISH
Glass top affords you the option of using wax melts
Keep your home smelling great with your favorite scent
Dish design allows you to vape and diffuse all at once
The aroma top lets you keep your home smelling great with waxes or oils 24/7 without interrupting your vaping experience. 7th Floor also sells our own collection of wax and oil scents that work perfectly with the Silver Surfers Aroma Top
---
CUSTOM GLASS
Something many people don't know about 7th Floor is that we have our own team of highly skilled, self-taught glass blowers who not only make all of the glass for our vaporizers, but also spend their time making heady glass such as dope water filters.